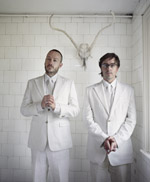 international news _ 19th March, 2007
Basement Jaxx On Discovering Sinden
Text by Jonty Skrufff (Skrufff.com)
Uber-hot Switch protege Graham Sinden has remixed Basement Jaxx' new single Hey U, just two years after he was discovered by Felix Buxton working in a fashion shop.

Chatting to Skrufff in April 2006, Felix described being so impressed with the then unknown producer that he offered him a gig at their then Brixton nightspot Inside Out, with impressive results.

"I got Graham to be the resident at the club because it was the best music I'd heard," Felix recalled, "He was working in a clothes shop in Covent Garden, but every time I went there I ended up not buying anything but listening to some of the tracks and asking him what they were. He didn't really DJ much at the time but now he's doing really well."

"That underground vibe seems to have come back a bit to dance culture, which is a real relief, because the whole big superstar DJing thing and all that seems a bit ridiculous to me," he continued, "I like a little dark sweaty room where people are really into it where DJs are mixing and mashing all sorts of stuff together, and Graham does exactly that."

Sinden has gone on to remix artists including Lady Sovereign, Mary J Blige, Jesse Rose and Switch as well as Basement Jaxx, whose new single Hey You, he's turned (with the help of Switch) into a shudderingly powerful, dirty house monster.

"He has a really refreshing approach, which a lot of the younger kids have, where there's no separation between an acid, drum & bass and R&B track. They donít care," Felix said.

"I think club music got very boring which is why people started to go and see bands, because they were like 'Actually this is a lot better, the band isnít that good but at least somethingís happening', rather than people just seamlessly mixing boring dub records after boring dub records together," Felix added.

"I just find that so boring and I'm meant to be into house. I love that whole feeling, sleazy, f**ked up little room sound.Ē

Hey U is out on XL Records in April.


News :Basement Jaxx Get The Itch(27/07/2006)
News :New Basement Jaxx Single and Best Of Album(24/01/2005)