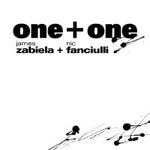 international news _ 15th March, 2007
One+One Equals New Compilation
Text by Len Iima (HigherFrequency)
As reported earlier by HigherFrequency, the dynamic duo of Nic Fanciulli and James Zabiela aptly named "One+One" will officially be launched at the upcoming WMC in Miami, followed by a worldwide tour.

The "One+One" compilation will feature a collaboration of these two masterminds on the tracks Rover and No Pressure. Along with their individual efforts, remixes and big names such as Deep Dish, Funk D'Void, Phil Keiran, Derrick May, Guy Gerber and many others.

"One+One" will be released on April 2nd off Ministry of Sound.


Tracklisting
Disc One
01. James Zabiela and Nic Fanciulli / Rover
02. Deep Dish / Stay Gold (Nu Mix, a JZ and Nic F Edit)
03. Funk Da Void / To Ya Waistline
04. Crazy Penis / The Way We Swing (JZ Edit)
05. Rockers Hifi / Push Push (M.A.N.D.Y Mix)
06. Compuphonic / Analogue Sparkles
07. DJ Indicator / Nothing Like You
08. Carl A Finlow / Floating Point
09. Cobblestone Jazz / Dump Truck
10. Simon Baker / Plastik
11. Jurgens / Love it
12. James Zabiela / Human (One+One Version)
13. Furry Phreaks / Soothe (Cyanide Ride/JZs Northern Nod Edit)
14. Fragmente / Think Of Love

Disc Two
01. Shane Berry / SimonSis1
02. The Fix / Being Stupid
03. Alcatraz / Paul Woolford / Giv Me Luv / Erotic Discourse (Zabiela Erotic Luv Mash up Vocal Version)
04. Nic Fanciulli / Cat Out Of The Bag (Jim Rivers Mix)
05. Phil Kieran / A Pinhole Of Light
06. The Workidz / Work it
07. HiFi Bugs / Dont Die, Dont Kill Anyone
08. The Electroliners / Ghetto Train (Original Mix)
09. R3volve / Netsplit
10. Faxing / Berlin
11. Nic Fanciulli / Scratch n Sniff (Album Edit)
12. Guy Gerber / When in Rome
13. Derrick May / Wiggin (Nick DK Edit)
14. One+One / No Pressure

News :The New Dynamic Duo(02/02/2007)
Interview : Nic Fanciulli Interview Via E Mail (12/2006)
Interview : James Zabiela Interview Via E Mail (09/06/2005)