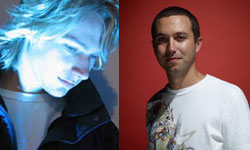 international news _ 2nd February, 2007
The New Dynamic Duo
Text by Len Iima (HigherFrequency)
Nic Fanciulli and James Zabiela, England's brightest young DJ's have decided to work together and have planned a worldwide tour states DJmag.com.

They will be following the same formula as fellow countrymen Sasha & Digweed back in 2002 with their Delta Heavy tour. The new partnership will be called One + One and will see the duo across every continent (except Africa).

Both DJ's have said that the other is a good match and will compliment each other musically. They will debut at Miami's Winter Music Conference then hit the road in a Spartan style tour of America, playing together at up to five shows a week!

In addition to the world tour, the two also plan to release a CD off Ministry of Sound Records. No other details have been given at this time but coming from this pair it should be an instant classic.

Interview : Nic Fanciulli Interview Via E Mail (12/2006)
Interview : James Zabiela Interview Via E Mail (09/06/2005)