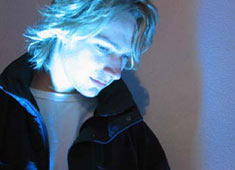 James Zabiela
Style : Progressive House, Breaks
Label : Renaissance, Hooj Choons
Official Web : www.jameszabiela.co.uk

James Zabiela was introduced to the world of acid house through his father, who worked in a local record shop and would come home laden with armfuls of early house and techno. The time? 1992. A time of innovation, invention and an endless stream of Guerilla releases, James was hooked instantly. Like father, like son? The phrase could've been coined for Zabiela's career. By the age of 15, James had started working for the same records shop his father was working for, and t wasn't long until he was offered a job there as a vinyl buyer.
Through the shop, James was introduced to various promoters and went on to play for local clubs including Manage a Trois and the infamous High Tide boat parties. But James was interested in a more diverse sound than trance with a capital 't' and found it hard to play his breakbeat-flavored beats to local crowds, so as 'a way in' decided to enter Muzik Magazine's prestigious Bedroom Bedlam competition and won.
That success was a great boost to his confidence and inspired him into working harder to promote his DJing career. Going out to more & more events, he started handing out those trusty mixtapes he'd done. While at Bedrock in London James met Lee Burridge, a key influence, who took the time to listen to the tape. He too was hooked. "His style is diverse, interesting & technically skilled, said Burridge "Blurring the line between house and breakbeat, he encapsulates all the skills that a new DJ should bring to the job." Lee invited James to play at his own Breaks night along with DJ Hyper & Craig Richards at Bar Atlantis. Since then James has played there every month since. Word was undoubtedly spreading.
Inevitably, James was DJing in London more than ever with gigs at the Laundry and at Muzik parties alongside the likes of Justin Robertson, Hybrid and Danny Tenaglia. Even Diggers took the time to call him up, offering James a slot at Bedrock. And he's been asked back on several occasions since, as well as DJing for the Daliparade in Istanbul. Could things really get any better? They could. Just as James' feet were about to float back to earth, the phone call of his career came out of nowhere. Thanks to a gentle prod from Lee Burridge, one of his mix tapes was heard by a certain superstar DJ called Sasha, another of James' musical heroes. Within the month mid-December, in fact James was offered a place on Sasha's team at Excession, joining a roster that includes Lee, Steve Lawler and Sander Kleinenberg.
On August 12th, James flew out from Heathrow to play the gig of his career thus far, spinning before Sasha at the most important date in the clubs annual history, James joined Lawler and Morillo for a career-defining gig inside at Space. And on the club's twelfth birthday, no less.
Still only 24, still pushing the envelope and still learning to cope with a real-life fanbase and life on the other side of the record counter, its unlikely that James Zabiela will be taking a breather anytime soon. There are further late niteries like Tribal Sessions and The End to entertain and regular slots in Romania and Budapest to attend to. (I get to play whatever I want," he smiles). On his trip to Australia in 2003 he played a five hour set in front of 3,000 screaming punters at The Art House in Sydney. No wonder Sasha refers to James as the guv'nor, This is just the beginning
James Zabiela Interview in Tokyo (5th June, 2004)
James Zabile "Alive" Release Info(2004/07/26)
Renaissance feat.James Zabiela @ WOMB, Tokyo Party Report (2004/06/05)
Renaissance @ The Cross, London Party Report (2004/06/26)
We Love Space @ Space, Playa Den Bossa Party Report (2004/07/04)
"James Zabiela Top10 Chart