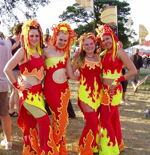 international news _ 7th March, 2007
Glade Goes Glastonbury (& Burning Man) 20-22 July
Text by Jonty Skrufff (Skrufff.com)
This year's Glade Festival will be adding an outdoor stage and three new tented arenas, festival organiser Nick Ladd told Skrufff this week, including a techno tent, roots tent and 'Nectar Temple' space inspired by America's desert festival Burning Man.

"We popped over to Burning Man Festival last year and we connected with one of the most creative collectives I have ever come across over there. So we're bringing the whole family over to the UK - it will be a zone of cutting edge visionary arts from California from the likes of Alex Grey and Luke Brown, Circque de Soleil style perfomance artists and the music of the West coast breaks scene", Nick revealed.

"It will also feature a zone dedicated to speakers from all over the world coming to give talks and workshops on a wide range of subjects, from ecology to the evolution of consciousness. The crew are busy in Bali right now creating previously unseen artwork for the zone which will blow people away", he promised.

He also stressed they'll be maintaining their no corporate sponsorship policy ('we are one of the few festivals in England still with that intact, it's to keep the vibe real and not sell it out in any way') and revealed they're launching an arts foundation at this year's 3 day event.

"Anybody looking for funding for original artistic ideas that would go down at festies should contact us via the website (www.gladefestival.com)", Nick said, "We want to help fund creative ideas for site art installations and creativity generally".

He also confirmed Glade will be heavily involved in Glastonbury Festival again this year, helping produce its Dance Village.

"Glastonbury is the mother of all UK festivals and is a whole different experience - I am sure a lot of people will go to both", he pointed out.

"They are a month apart and the last Glastonbury's tickets sold out in 18 hours flat whereas we sold out in two weeks without even releasing our line up. We are in collaboration, not competition".


News : Glade Festival Stir Up Psy-Breaks In London (02/05/2006)
News : Glade 2006: 'A Proper F**king Rave' (20/03/2006)