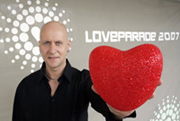 international news _ 5th March, 2007
Loveparade Founder Fancies Cologne
Text by Jonty Skrufff (Skrufff.com)
German dance culture icon Dr Motte who founded Berlinís Loveparade in 1989 before quitting last year, chatted to Skrufff this week about the new organiserís call for other cityís to stage this yearís event and said he felt no strong attachment to Berlin either.

"I started the Loveparade in Berlin and it developed in Berlin but it could also be staged anywhere else. It started in Berlin just because I happened to grow up here", Motte revealed.

"I started it purely to give the new music of the time a new platform, a new forum, a new space, a new identity, a new way of expressing of growing, of elevating something, of dancing, of music . . . a new way of meeting people. It was about electronic dance music of any type. That was my main intention for starting the Loveparade, I never did it for Berlin. I was mainly concentrating on giving that music a new platform," he said.

Motte watched the event grow from a few hundred clubbers to 1.5 million people in 1999 when its size and popularity provoked increasing conflict between city authorities and the organisers. When outside investors stepped in last year to save the event, he rapidly fell out with the company who bought control, over their business plans and stressed today heís wholly unconnected.

"Love Parade is completely sold- 100%," he said, "The old team is not involved anymore and because of that Iím concentrating on myself and on trying to find something else that can be a new platform or to support everyone".

As well as shortly launching a new label he said heís also planning to leave Berlin soon, with Cologne his number one destination.

"I have friends there and I like the city because peopleís attitude there is very light. If you come to Berlin youíll find a very tough, strong energy here. You always have to work very hard for things here, whereas in Cologne people are more like 'oh, that's easy, that's nice," he said.

"What I also like about Cologne is that they have a Gay Pride going on every year, every year they have a week when a million people come there just for that event. The Government in Cologne is also supporting that and giving money for advertising to support it. Berlin never ever did that".

Skruff man-in-Berlin Mark Reeder, who discovered Cosmic Baby and Paul Van Dyk disagreed, however, saying "I think its really great to have the Loveparade in other cities, as long as the event is staged with the same original message and ideology of love and tolerance. Yet no matter how great they are, they will never be like Berlin. Berlin is the home of the Loveparade and so Berlin should really have one too."

"Back then in July 1989, we were a couple of hundred crazy people - the then Berlin club scene - we were all dancing down the Kudamm to techno behind a few vans on a Saturday afternoon," he recalled.

"By the looks on peopleís faces, you could see the shoppers thought we were loonies. We all had a fantastic time though and our enthusiasm, boosted by the fall of the Berlin wall gave the event even more credence, as it reflected the newfound freedom of the city. The attendance grew each year to eventually become (and make) millions. Yet where there is success and happiness, there is also envy and hatred," he continued.

"Unfortunately over the years, the image of the parade and what it originally stood for has become very blurred. Many people are hostile to what it has become today, it's lost its allure and become tarnished and no longer glitters. To many it is just another commercial event, void of any real meaning. This is because the parade has been hi-jacked by corporate companies that are all too eager to use it as a marketing tool. A way of sucking up to the young people and showing how cool they are."

"Without question, this city needs this parade. But more so this parade needs to be brought back to its original demonstration idea and become a volks-event (peoples' event), one by the people, for the people", he suggested.

News : Berlin Love Parade Dumps Berlin(26/02/2007)
News : Berlin's Love Parade Is Cancelled Again(02/05/2005)