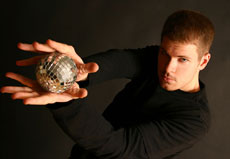 international news _ 30th June, 2006
Agent 001's Operation Berlin
Text by Nick Lawrence (HigherFrequency)
Fade Records favourite Yank, Steve Porter, is set to be a very busy boy over the next couple of months. When the Love Parade returns to Berlin on the 15th of next month he'll be boarding Paul van Dyk's boat and feeling the love with over one million people. Not only that but Steve will be joining the Dykster along with Sander Kleinenberg and Moguai at the official Love Parade opening party, The Love From Above.

To celebrate his visit to Berlin Porter, also known as Agent 001, has teamed up with fellow American producer Aaryn Blain to release two new tracks under the title "Operation Berlin EP". The EP is handled by Fade's sub-label FDS Recordings and includes Porter & Blain with 'Trans AM' as well as an Aaryn Blain remix of Porter's 'Fluffer Nutter', the original of which was part of last year's album release by Steve, "Homegrown".

In the weeks and months following his Love Parade appearance Steve will be heading to Canada, Slovenia, El Savador and Bulgaria as part of his "Porterhouse" tour. And just so anytime Porter actually gets to spend at home isn't wasted, he has recently signed up with Konami Digital Entertainment to supply exclusive music for games likely to appear on Playstation and Xbox consoles.
Event : Love Parade 2006 (15/07/2006)