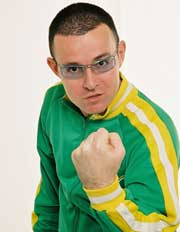 international news _ 18th July, 2006
Judge Jules Narrowly Escapes Lebanon Chaos
Text by Jonty Skrufff (Skrufff.com)
Judge Jules played a wildly successful gig for Crobar in Beirut recently just days before the country was almost totally cut off by an aerial bombardment launched by the Israelis.
This week's bombings, in which fighter planes destroyed all the runways in Lebanon as well as numerous bridges, came after Hezbollah seized two Israeli soldiers, plunged the country into a crisis that many reports suggest could escalate into full blown war.
"Travel agents, collectively, are helping hotel guests evacuate Beirut hotels, finding them cars to transport them over to the Syrian border," a press release issued by TravelVideoTV reported.
"The traffic traversing the Beirut-Damascus highway and major roads leading to the borders is bumper-to-bumper."
The New York Times reported soon after that 'Lebanon found itself virtually cut off from the world' after Israeli jets subsequently bombed the highway.
"The land border with Syria, the sole exit from the country, was backed up for miles by midday," said the Times, "Many Westerners, for whom Syrian visas have become much more difficult to get, were stranded in hotels."
Passing through the country two weeks earlier for his second gig in Beirut (his first was in November 2004) Jules described Lebanese clubbers as 'a cool bunch' and spoke enthusiastically about the country's potential as a clubbing destination.
"Whilst Beirut is undeniably chaotic, it's a long way from the perception of many Europeans," said Jules on his weekly online diary, "20 years ago the city went from being a rich playground and the 'Paris of the Middle East' to somewhere plagued by civil war and kidnappings. These days it's well on its way back to the comparisons with Paris."
At the same time, local newspaper the Daily Star published a feature declaring 'Lebanon's capital has returned to the global party map'.
'Rave culture finds a happy home in Beirut', said the Star, "Tiesto, Paul Van Dyk, Paul Oakenfold, Armin Van Buuren, Seb Fontaine, Anthony Pappa, Nick Warren, Tall Paul, John Digweed. Yes, it may sound like a poll for the best DJ in the world. But no, it is in fact a list of just a few names who have hit the Lebanese nightlife scene in the past year alone."
News : Judge Jules' Money Shot (11/07/2006)