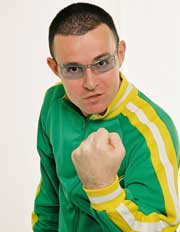 international news _ 11th July, 2006
Judge Jules' Money Shot
Text by Jonty Skrufff (Skrufff.com)
Judge Jules brushed off questions about DJ earnings this week, telling Skrufff 'I couldn't tell you if DJing's as lucrative these days, because I don't pay any attention to what I get paid- that's a matter for management. I just play my music."

The hugely popular Radio 1 star also sidestepped potential sales figures for his upcoming Ministry Of Sound compilation 'The True Sound Of Ibiza', arguing 'I've released roughly 50 mix CDs in my DJ career, and I couldn't tell you the sales figure for even one. I'm not a very corporate fella."

Jules' no comment comments contrasted markedly with his stance some five years ago when the Sunday Times' Rich List estimated he'd earned 2million pounds in one year and bought a 1million Ibiza home in cash' from just 7 days work on the island.

"I think the Sunday Times picked their figures out of thin air. It's the sort of piece you'd expect to see in a tabloid, not a so-called quality paper. The villa's value was overstated by a factor of five, and if I earned that much from DJing in Ibiza I would have retired years ago," Jules told Skrufff at the time.

"Suffice to say, the Sunday Times got this piece of information from an article that appeared in the Daily Star earlier in the year. I think that says it all," he continued.

"If the basis of their research was similar for each individual they focused on, the entire supplement lacks any credibility whatsoever."

On music matters, Jules this week sounded upbeat about both his compilation and new season of Judgement Sunday parties in Ibiza, admitting he's enjoying his hectic workload more than ever.

"I catch more than 200 flights a year and although the lonely time on planes and in airports is pretty depressing, the buzz of DJing remains as strong as it was when I played my first gig many moons ago," he said, "I don't think any DJ could fake this, and anyone who's seen me play will have witnessed just how involved I get." He also dismissed recent comments by Manumission that Ibiza's been 'house music-centric for too long' and being saved by the arrival of indie bands, laughing 'Manumission are No.1 masters in the art of the sound bite, and I wish I could sound half as clever as them! Ibiza Rocks has generated more column inches than Ron Jeremy."

"This has been Judgement Sundays' busiest year in at least the past five, so no salvation is required just yet," he added.

Judge Jules- The Real Sound Of Ibiza is out shortly on Ministry Of Sound.