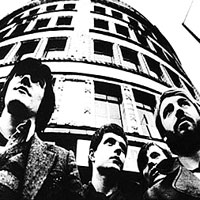 international news _ 14th July, 2006
Ian Curtis In Control
Text by Nick Lawrence (HigherFrequency)
It has just come to light that filming has finally begun in the British municipalities of Nottingham and Macclesfield for the movie that focuses on the final years of Joy Division's lead singer, Ian Curtis, before he committed suicide at the age of 23. The biographical film is to be entitled "Control" and will be released sometime next year. The film is based on a book written by Curtis' widow Deborah and will explore their relationship and Ian's adulterous lifestyle as well as his problems with epilepsy and of course his time with the band.
"Control" will be directed by Anton Corbijn who was recently responsible for "One Night in Paris", a DVD of a 2001 Depeche Mode live performance. Corbijn has also made a name for himself in the filmclip world working with Depeche Mode numerous times including on their much loved 'Personal Jesus' as well as creating the video for Joy Division's 'Atmosphere', which he made in 1998 long after the band's demise.
As was previously reported on Higher Frequency the remaining members of Joy Division have headed back into the study after 25 years to start recording music for the film's soundtrack. Bernard Sumner and Stephen Morris will once again play as Joy Division with bassist Peter Hook, who has recently taken up touring the world playing DJ sets including upcoming gigs alongside fellow headliners Mark Farina, Krafty Kuts and the Beastie Boy's own Mix Master Mike for Australia's nomadic Parklife event during this coming September.
Interview : Peter Hook Interview in Tokyo (15/04/2005)
News : Re-Living The Joy Twenty-five Years On (21/12/2005)
Control Official Site
Joy Division Official Site
Parklife Official Site