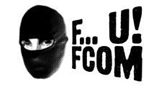 international news _ 12th January, 2007
Gong Gong Say F…U to Copyright
Text by Nick Lawrence (HigherFrequency)
F Com, the apple of Laurent Garnier's eye, is offering all budding beat makers a chance to head into their home studios and remix recent label signings Gong Gong.

Gong Gong is the pairing of Jean-Christophe Baudouin & Thomas Baudriller, who together fuse acoustic sounds and electronic circuitry to create something resembling post-rock. For the outfit's onstage antics it isn't uncommon to see instruments like the double bass alongside the usual electronica fare as they create their audio-visual performance.

For those wanting to try their hands at re-interpreting Gong Gong's 'Kawabata' all necessary parts can be found on the F Com official site. The remix opportunity is offered under the Creative Common rules so pretty much anything goes except for commercial use of the artist's material. So in this case filesharing is 100% legal.