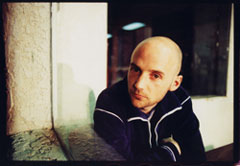 international news _ 23rd February, 2007
Go Moby Go
Text by Len Iima (HigherFrequency)
After releasing a 'Best of' compilation last year, Moby has decided to let a bunch of DJs and producers go to work on his tracks. Some of the industryís top talent such as legend Armand Van Helden, minimalist Trentemoller, Sandy Rivera and many others offer their skills for this album.

In addition to recruiting the cream of the crop, Moby held a remix contest at the end of last year. Anyone (with a computer) was eligible to enter, and first prize was an entire home studio set-up with all the bells and whistles from the people at M-Audio. Although the winner isnít on this album, they will still walk away happy.

"Go: The Very Best Of Moby Remixed" will be released on March 5th off Mute records.


News: Moby Mocks Muslims & Gay Meth Minister(21/02/2007)
News : Mobyís Middle Aged Spread (13/12/2006)
News : God Only Knows P Diddy & Moby (04/12/2006)