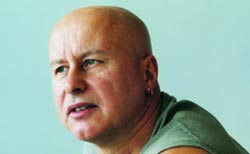 international news_ Jonty Skrufff _ 12th February 2005
Graham Gold's Cycling Secrets
London clubland institution Graham Gold is looking for DJs to join him on the annual London to Brighton bicycle ride this June 19, he announced this week.

Chatting to Skrufff the cycling fanatic DJ described the 50-mile bike ride as being a 'big buzz' through stressed wannabe cyclists will need to dress appropropriately to take part.

"Tight Lycra is absolutely essential, you can't beat it," said Graham, "though you don't have to shave your legs- I don't, well not my legs," he insisted.

He also laughed off danger issues such as nipple abrasions that afflict many marathon runners if they fail to tape them up beforehand.

"Nothing like that happens, not that I know of anyway," he stressed. "Though I recently ripped my nipple piercing out on the shower door which was the most painful thing in my life."

Interested parties and sponsors should contact Graham at graham@grahamgold.com all funds raised go the British Heart Foundation. (Jonty Skrufff / Skrufff.com)

Jonth Skrufff Biography
BHF London to Brighton Bike Ride in tandem with Shredded Wheat, Sunday June 19

Road rash is par for the course in bicycling. Crashes sometimes happen and cycling clothing, which is not much thicker than underwear, does not provide much protection from the exfoliating effects of pavement.

Cycling performance tips: 'Shaved legs are a plus IF you take a fall and have to clean out gravel and dirt - the hair gets matted into the "scab" and pulling on it while cleaning just hurts that much more...