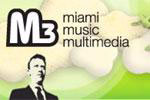 international news _ 21st December, 2006
Miami Loses The Big M
Text by Nick Lawrence (HigherFrequency)
As March grows closer and the fair city of Miami prepares for one more year of the Winter Music Conference it seems that one major contributor to the music industryís beachside eventís successful history will not be making an appearance.

The M3 Summit will not be taking place in 2007 despite increasing in stature and popularity since itís í04 arrival onto the Miami WMC calendar. The absence of the M3 event, which brought together parties, panel discussions and showcases, is supposedly due to the responsible companyís desire to expand beyond their annual festivities.

Still making it to Vice City next year however will be the soon to be 9-year old Ultra Music Festival. Scheduled for the 23rd and 24th of March this American icon will bring together more than 250 artists and over 50,000 excitable music fans.
Special Report : Miami Winter Music Conference 2006 (03/2006)
News : The Three M's - Miami, Music, Multimedia (20/02/2006)
Winter Music Conference Official Site
M3 Summit Official Site