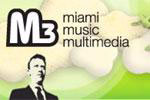 international news _ 20th February, 2006
The Three M's: Miami, Music, Multimedia
Text by Nick Lawrence (HigherFrequency)
It's almost that time of year when industry big wigs and wannabes alike gather under the winter sun in Miami, Florida to discuss, network and most importantly party. Catering to all their needs for the third year now is M3 (Miami Music Multimedia). This year the list of artist's performing at M3 events is almost implausible.

M3 Sessions is a four day and four night event with music coming from DJs including Mark Farina, Coldcut, Gilles Peterson, Vitalic, Bugz in the Attic, Jamie Liddel and Juan Maclean. Also, in conjuction with Beatport and Remix Hotel, M3 is presenting a phenomenal list of artists over three days including Adam Freeland, Booka Shade, DJ Hell, James Zabiela, Hyper, Josh Wink, Nick Warren, Satoshi Tomiie, Richie Hawtin, Hector Romero, John Acquaviva, Chris Liebing, DJ Krush. Keep in mind that this list has been greatly reduced in the interest of word count.

In addition to a musical line up to make any club music fan go weak at the knees, the M3 group have organized a keynote speech with editor in chief of Wired magazine Chris Anderson taking hold of the microphone for a while before founders of the Ninja Tunes label and the celebrated Solid Steel radio show on Kiss FM, Coldcut will be sharing their views on life, the universe, everything and perhaps a little bit about the music industry.

Making up the multimedia component of the M3 name will be a visual arts festival showcasing live video mixing, live painting, film and mixed-media installations. And for those who need a rest from the schmoozing and boozing M3 provides yoga classes every morning. Just the thing to work off the previous night's excesses.