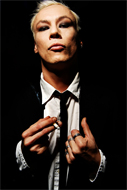 international news _ 14th December, 2006
Luke Slater's Closet Confession
Text by Jonty Skrufff (Skrufff.com)
Techno-electro star Luke Slater chatted to Skrufff this week about his upcoming mix CD for Fabric and revealed that before becoming a DJ he had an unusual obsession with fruit and vegetables.

"I cleaned aeroplanes in the past as a job and I once worked as a greengrocer, Luke revealed, "I think being a greengrocer was one of my favourite jobs apart from what I do now," he added,

"I used to stand outside in front of the fruit and veg display, handing out plastic bags. I've got a lot of time for market stall holders; I'm a closet greengrocer," he laughed.

The UK based producer also revealed he's virtually given up clubbing except for occasional trips to electroclash institution Nag, Nag, Nag.

"I've never been big on going out, but if I'm in London I might pop down to Nag because it's midweek and I really like it down there. I like to find strange places; I'm not a raver though I suppose I was in the beginning."

"The fact is that DJing has been so exploited, I swear everyone I meet either is, or wants to be, a DJ," Luke continued.

"I think the majority of people do it for the birds and the booze, but that's not really why I do it. When I was very young and I first got my decks in my room, all I did was learning to mix. Maybe the legacy just continues. The funny thing is that now I don't even own a pair of Technics, I have five decks, three of them are broken, and the other two are mis-matched. I just play out; I can't stand it to play at home," he added.

Fabric 32: Luke Slater is out shortly.
News : Luke Slater Shows Fabric Heaven (30/11/2006)