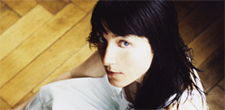 international news _ 14th December, 2006
Beck, Thom Yorke and Ellen Allien's Camping Adventure
Text by Nick Lawrence (HigherFrequency)
Ellen Allien, the fashion designing DJ with a fondness for releasing electronic equipment out of office windows, is preparing to release the BPitch Control compilation "Camping 3" in March of next year.

No tracklist or artwork is currently available for the third edition of the "Camping" series but it is known that the March 26th release will be accompanied by a European tour in the following month which is sure to involve not only Ellen herself but also the likes of Modeselektor, Sascha Funke and Tomas Anderrson.

As well as the vague details of "Camping 3", Ellen's website also announces very briefly that she will be remixing music from both Radiohead lead singer Thom Yorke as well as puppeteering fan Beck.

"Camping 3" will be released on March 26th.
News : Ellen Allien Frocks Up (02/08/2006)
Party Report : HigherFrequency + UNIT presents Bpitch Control Night @ Unit, TOKYO (04/05/2006)
Interview : Ellen Allien Video Interview (12/07/2005)
Party Report : Wire 05 @ Yokohama Arena (16/07/2005)