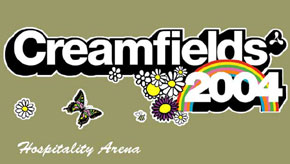 international news_24th August, 2004
Creamfields Countdown
Less than a week to go until Cream's bank holiday homecoming and things are shaping up nicely for what will be, weather permitting, the dance music event of the summer. It's been revealed that Keith Flint's new outfit, Clever Brains Fryin, will be performing on the Radio 1 outdoor stage and Nat Leonard will be singing over a special set by Dave Seaman.
Over 35,000 revelers are expected to attend the 15-hour party that will host possibly the highest concentration of superstar DJ's in the world all doing their thing on one of 11 stages spread over the site.
For those still buzzing in their boots after 15 hours of dancing details of the official after party at Baby Cream, Cream's dockside bar in the heart of Liverpool, have been announced. The party for those who really don't know when to stop starts at 11am on Sunday morning and no doubt will feature some of the stars of the show popping in for a spin on their way home.
With so many people playing at the event its difficult to say what the highlights are going to be but I'm sure live performances from The Chemical Brothers and Mylo on the outdoor stage are going to be pretty special.
Unfortunately though Goldfrapp have pulled out of the festival due to Alice, the lead singer, suffering from exhaustion. No details of a replacement have yet been made.
For readers in Japan kicking themselves that an event like this is happening on the other side of the world there is some consolation, Radio 1 will be broadcasting Deep Dish's set live as part of the Essential Mix starting at 1am GMT, (9am JST). Higher-Frequency will be at the event running round the festival site like a madman to make sure readers will get to see the best of the mayhem that is guaranteed to ensue from 3 pm on Saturday afternoon. Photos and report will follow...
Creamfields UK Event Info (28/08/2004)
Intl News "Superstar Festival Experience" (06/08/2004)
Intl News "Creamfields UK August Holiday Extravaganza" (04/06/2004)