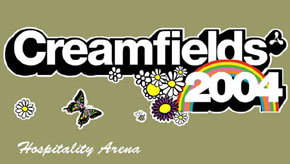 international news_6th August, 2004
Superstar Festival Experience
Appealing to the rave generation who've grown up and don't like the thought of sweating it out on the dance floors Cream are offering a limited number of VIP tickets for their Creamfields UK event, due to take place in Liverpool on the 28th August.
Clubbers who pay the 90GBP asking price will be treated to a luxury festival experience from the minute they park their car in the VIP parking area and are whisked past the people waiting to get in. They will have exclusive access to the hospitality area as well as complimentary food, a fully stocked champagne bar and possibly the most important requirement for any VIP at a festival, Luxury toilets!
The hospitality area will be entertained by Babycream, (Cream's new bar/lounge brand), residents, keeping things grooving along while guests calm down away from the dance floor action inside the fully furnished marquee or in outdoor seating areas. Experience a festival like the VIP's do!
For full event details
Intl News "Creamfields UK August Holiday Extravaganza" (2004/06/04)