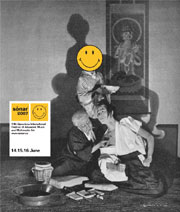 international news _ 25th April, 2007
Sizing Up Sonar
Text by Len Iima (HigherFrequency)
This year's Sonar line up has been announced. Along with the Beastie Boys, who will be playing an instrumental set (and a traditional B Boy set), 80's new wave icon Devo, come a slew of Dance DJ's/acts like Ritchie Hawtin, Timo Maas, Jeff Mills, Ricardo Villalobos and Dave Clarke. The most recent additions are Modeselektor, James Holden, and a M_nus label showcase featuring JPLS, and many others

This year will also see the return of Sonar Pro which was started last year as a way for industry people to connect (WMC ish). From artists, promoters and every facet of the art world, over 700 companies were represented last year. Along with a record fair, the organizers have also set up a 'Professional Area' where you can do business and/or have a meeting. With a huge roster of some of the best names in the music industry and tons of corporate big wigs Sonar could very well be the next WMC.

Sonar 2007 will take place from June 14th to the 16th in Barcelona, Spain.

Beastie Boys, Jeff Mills, Dave Clarke, Ricardo Villalobos, Luciano, Monolake, Ame, Dixon, Radio Slave, Devo, Dizzee Rascal, DJ Nu-Mark, Junior Boys, Timo Maas, Matthew Dear, Calle 13, Damian Schwartz vs Tadeo, Digitalism, Hey Willpower, Infinite Livez vs. Stade feat. Joy Frempong, James Holden, Modeselektor DJ-team, Richie Hawtin, Romantica, Sunn 0))), Setsubun Beat Unit, Mica & the Cluster, The Invisible, C2C, Hocus Pocus, Hearin Aid, Jay Scarlett & Cinnaman, JPLS, Tractile, Simian Mobile Disco, and more.
News: Mixmag- Sonar Is the New Miami (20/02/2007)