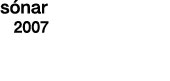 international news _ 20th February, 2007
Mixmag- Sonar Is the New Miami
Text by Jonty Skrufff (Skrufff.com)
Mixmag managing editor, DJ and producer James Mowbray chatted to Skrufff this week about the upcoming conference season and confirmed that the British dance monthly will be concentrating on Sonar this year instead of Miamiís Winter Music Conference.

"As a magazine we've been focused on Europe in recent years because that's where the music and artists we get excited about are coming from. And Sonar is where you'll get to see all those artists in one place," he explained, "Plus none of us go to clubs for $300 Premium Vodka Bottle Service. We go to clubs to rave," he laughed.

"Miami's not as important as it used to be, I think the days of going to Miami to find the big record are behind us." James continued. "As a business, Mixmag isn't hosting any parties there this year because the effort and cost involved wouldn't provide much of a return."

He also admitted being discouraged from Miami by the increasingly violent behaviour of door staff at some of the city's biggest clubs, with numerous European delegates complaining of being assaulted in recent years. In 2005, Mixmag staff writer Gavin Herlily told Skrufff how he was brutally attacked as he innocently queued outside one of the city's biggest superclubs, in an incident he said reflected the atmosphere throughout Miami Beach.

"Every club I went to seemed to be staffed by rude and aggressive security. The complete lack of respect for customers, especially Europeans there for the Conference made me wonder why the industry bothers with Miami in the first place," Gavin complained.

"The clubs themselves are overpriced and the staff that work in them arrogant and disrespectful. Most of the people that go to the South Beach superclubs are vacuous Americans with more money, silicone and steroids than sense. Music seems to come second best to hiring tables and showing off how much money they have and if I were to advise someone interested in going I'd say save your money and go to Ibiza," he concluded.

Back in London, James Mowbray was this week putting the finishing touches to his new night Heavy Industries, which launches next Thursday (February 22) in Shoreditch, with friendly security and free admission for all.

"I've set up Heavy Industries so I can have complete creative control over whatever I do, whether it's DJing, music, events, a label and so on. It's about forging relationships with people who inspire me and are passionate about what they do. And at the heart of it is music," said James.

"Anyone is welcome, all you have to is email names to heavyindustries@jamesmowbray.com and come and join us," he added.

Event : SONAR 2006 (15-17/06/2006)
News : Sonar goes to S. America (30/08/2004)


Mowbray Heavy Industries MySpace Page