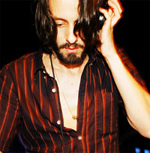 international news _ 23rd April, 2007
Half Lit Black Strobe
Text by Len Iima (HigherFrequency)
Ivan Smagghe, the man behind the decks of Parisian electro group Black Strobe has parted ways with partner Arnaud Rebotini (and the rest of the current band).

This departure comes just before they'll drop their debut album "Burn Your Own Church". The reason for the split was cited as 'Musical Differences' as Black Strobe head towards a Gothic/Hardcore sound, whereas Ivan is happy staying with the Electronica groove and spinning.

Rebotini told DJ Mag that Smagghe was "not a musician, and he didn't feel comfortable being on stage". When all is said and done, each will continue to do what they do best, whether it's produce and rock the dancefloor or thrash on a stage.
Interview: Black Strobe Interview (01/2007) (02/03/2007)
News: Black Strobe's Paris Syndrome Shocker (31/10/2006)