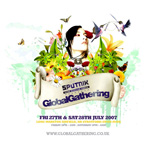 international news _ 16th April, 2007
Global Gathering's Very Very Very Important Punters
Text by Jonty Skrufff (Skrufff.com)
Global Gathering chief James Algate chatted to Skrufff this week about the ever improving facilities at their annual Midlands event and admitted he anticipates their new up-to-£840 per person Cloud 9 packages will have a niche appeal.

"We don't anticipate selling thousands of the packages but they are not aimed at the masses -just people who want a different experience," James explained,

"For some people, it's the idea of a quiet night's sleep, for others it's the fact they can park their cars next to their tent giving them that added level of security. I imagine a lot of industry who come to the event year in year out will chose them. However, we have made sure the main campsite includes hot showers and amenities so that everyone has an even better camping experience," he added,

While £840 provides local hotel accommodation and transport to the event, £810 provides 2 nights accommodation in a 'pod' a garden shed style wooden cabin with fitted carpets and sliding tinted acrylic windows.

"They're as cute and classy as camping gets," cabin providers Seventh Heaven insist, "garden gnome included."

Pod people also get a weekend festival ticket which includes entry to the new VIP area, a 3 story viewing platform stretched across the front of the main stage 'in a commanding position'.

"The decor will be luxurious and there will be plenty of space to sit, chill, dance and even eat a meal," the site blurb promises, "This viewing platform for the Main Stage means that you will be able to stay firmly in the VIP area but be close to the action as it happens."

Musically, this year's event is headlined by Basement Jaxx, Paul Oakenfold, 2 Many DJs, Sven Vath, Judge Jules, Adam Freeland, Janette Slack and scores more, splitting between old guard regulars and new upcomers.

"It's never easy to put the line up together. We have to jump through many hoops when booking talent for any event and Global is no different. Global Gathering has a very broad musical output so we try and encompass as many subgenres of dance as possible and promote all trends," said James.

"There will always be a place for the real pioneers of dance music at our events because they're such big names and people really want to see them and in terms of ticket sales, the big names certainly pull in large numbers," he continued.

"But it is also vital that we create a platform for the best newcomers. Our line up stands out from other festivals because of the combination of legends and fresh new artists and perhaps 20%- 40% of the bill have never played the event before," he added.
News: Global Gathering/ Hi-fi Chief Shoots Down Bird Flu Fears (09/03/2006)
News: Global Gathering Launch I-Pod Festivals (20/02/2006)