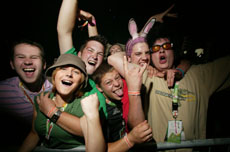 international news _ 20th February, 2006
Global Gathering Launch I-Pod Festivals
Text by Jonty Skrufff (Skrufff.com) _ Photo by Paul Underhill (www.paulunderhill.com)
Leading UK clubland promoters the Angel Music Group have announced they're to stage two brand new festivals this summer, adding to their already massively successful Global Gathering event.
The Godskitchen promoters will be launching an entirely new event Hi: Fi Part 1. . . The North at the Matfen Estate near Newcastle, on Saturday May 27 (running from 2pm to 4am) and HI:Fi South at Matterley Bowl, Winchester, a 2 day with camping event on the same site previously occupied by Homelands.
Both festivals will be combining DJs and rock bands with Ian Brown, Editors and Maximo Park confirmed for Hi: Fi Part 1. .. The North alongside DJs including Sasha & Digweed, Oakenfold, Erick Morillo and 2 Many DJs."
"The event will offer something for everyone musically by bridging the gap between out and out dance and live shows," said Angel chief James Algate.
"We want to give our guests the opportunity to see their indie and dance heroes performing side by side for the first time. This is something that we believe will suit the more eclectic music tastes of the 21st century perfectly. Hi:Fi Festival is the festival for the I:Pod generation."
Line-up details for The South event remain unconfirmed though with bands being selected by Glastonbury booker Martin Elbourne, are likely to be interesting. And with overnight camping facilities also being offered, the event is likely to be radically different from Homelands, certainly judging by comments James made to Skrufff last year, when Global Gathering became a 2 night affair.
"We didn't want to copy the Homelands and Creamfields concepts which were basically about adding live acts to an existing dance festival," he said last summer.
"We wanted to create our own style event by adding live acts to the Friday night and keeping the Saturday as it is, a pure dance music event." In the event Global Gathering drew 40,000 revellers.