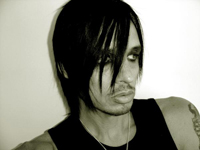 international news _ 11th April, 2007
Ade Fenton's Fighting Talk
Text by Jonty Skrufff (Skrufff.com)
Ade Fenton chatted to Skrufff this week about his increasingly close working relationship with Gary Numan and said he's becoming increasingly irritated, with the relentless sniping by the seminal electronic music pioneer's more obsessive fans.

"The main culprits are the sad c**ts who spend every day of their insignificant little lives slagging us off on internet forums," Ade complained, "I don't mind if they slag the music off, but a lot of the time it's pretty personal stuff, and there's no f**king excuse for it. I'd love one of them to have the bottle to say something to my face, but it'll never happen.

"I feel sorry for them actually, I mean ­ imagine being in your 40's with nothing better to do than criticise someone for making music on an internet forum," he stormed

The outspoken six foot star co-produced Gary Numan's critically acclaimed last album Jagged and more recently invited him into the studio to sing on four of his own tracks and admitted both experiences had been educational as well as fun.

"It's no secret I've been a fan of his music for a long time, and we also have a similar taste in music, so of course there's gonna be influences in there. But I'm confident that the album sounds like me, and not like I'm trying to be Gary Numan," said Ade.

"What lessons have I learned from him? Never, ever wear a vest or sunglasses in winter," he laughed,

The fashion fanatic insisted, however, that he remains committed to eye maker and mascara despite continuing hostility from both strangers and peers.

"I donšt get seriously hassled by cavemen anymore but I did get a really, really bizarre insult the other day," he laughed, "Fucking hell, it's Michael Jackson was the comment thrown this time Must be the long black hair, you see. Unbelievable," he mused,

Ade also backed Luke Slater's plea last week for more men to wear lipstick, declaring "I don't wear it myself as I've got pretty sizeable lips anyway, but I make absolutely no distinction or assumption about any guy that chooses to wear it" and confirmed he still gets mockery from jeans and T shirt rival DJs.

"I get grief all the time, sure, but it's actually getting better," he said.

"Over time, people just tend to accept you and actually acknowledge that you're a little different to them. Luke's absolutely right about it though. It's funny though, cos most of the jeans brigade idolise Jeff Mills, who turns up to a gig wearing a five grand Armani suit, yet they don't take us seriously cos we've got a bit of black eye make up on," he laughed.

Despite being fearless about sniping about his look, the Nottingham based DJ admitted he remains terrified of spiders, with an upcoming DJ tour, already causing him anxieties about tarantulas he met on previous trips.

"I've pre-warned the promoter about the spider issue," Ade admitted.

"One of my gigs is actually at the same venue where they were in the DJ booth last time, so I know the multi coloured f**kers are gonna be there waiting for me," he laughed.

Spiders permitting, he'll be playing tracks in Brazil from his upcoming album Artificial Perfect, whilst applying some of the lessons he's learned working with Gary Numan on Numan's recent album Jagged and no less than 4 tracks of his own,

Ade Fentonšs new single Healing (featuring Gary Numan on vocals) is out shortly, on Submission/ Universal, followed by his album Artificial Healing in May.
News: Gary Numan Reserves Judgement on Britain's New Tories (06/02/2006)
News: DJ's Hair-Raising Fashion Faux Pas (18/08/2005)