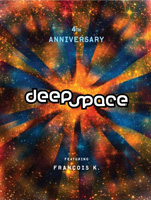 international news _ 9th April, 2007
Francois K In Deep Space
Text by Len Iima (HigherFrequency)
Over the last four years Francois K has been behind the decks (and mixing board) for one of New York's most prized club nights. Deep Space, which resides at Cielo, one of NYC's remaining nightspots, has remained a mainstay and continues to bring Dub sounds to the system.

Deep Space has also traveled the globe and made appearances at the Big Chill Festival, SONAR, Plastic People as well as numerous clubs in Europe, the US and Japan.

This month marks Deep Space's 4th anniversary with something special going down every Monday Night. Along with "Best Resident DJ" (from Club World Awards, two years running) Francois K, party people can be at the Beat Pharmacy album release party, or the how about seeing Matt Edwards (aka REKID/ Radio Slave) tear it up from the booth.

News: A Slice Of Heaven From NYC (23/02/2007)