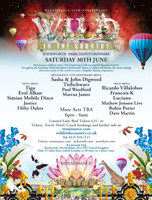 international news _ 6th April, 2007
Go Wild Renaissance Style
Text by Len Iima (HigherFrequency)
House music's favorite DJ combo Sasha and Digweed with reunited (in the UK) after a three year hiatus. They will join forces and take centre stage at Renaissance's 15th anniversary which will be held at the beautiful Knebworth House.

This one night super extravaganza will feature many other superstars on a total of three stages (or arenas). Joining Sasha and Digweed on the main floor will be Tiefschwarz, Paul Woolford and Marcus James. If you rock to a different beat than you can check out Ricardo Villalobos, Francois K, Luciano and others in the Wild arena. If you're still wanting more variety, then how about shaking it to Tiga, Erol Alkan Justice, Simian Mobile Disco in the Neon arena. With new artists still being added to the line-up it will be difficult to stay in one place inside this massive manor.

Wild in the Country will take place on June 30th, at Knebworth Park, Hertfordshire. Tickets are now on sale.

Sasha and Digweed, Tiefschwarz, Paul Woolford, Marcus James, Ricardo Villalobos, Francois K, Luciano, Mathew Jonson, Robin Porter, Dave Martin, Tiga, Erol Alkan, Simian Mobile Disco, Justice, Filthy Dukes, Hot Chip, 2ManyDJs and more to be announced.

News: Tiefschwarz's Ten Together(13/03/2007)
News: Renaissance's Japanese Master (08/02/2007)
Wild in the Country Official Site