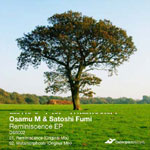 domestic news_2007.07.30
Osamu M が新レーベルを始動
Text by Masanori Matsuo (HigherFrequency)
これまでに Sasha、John Digweed、 Paul Oakenfold、 Dave Seaman、 Steve Laweler などといった多くのトップDJと共演を果たし、John Digweed による Kiss 100 ラジオ・ショーにも幾度となく出演を果たしてきた日本を代表するDJ/プロデューサー Osamu M が、世界に目を向けた新レーベルを立ち上げた。

その第1弾となる 'Reminiscence EP' は、レーベル・オーナー Osamu M 自身と、先日 sequent:recordings より 'micro no'R EP' という良作をリリースしたばかりの日本人アーティスト Satoshi Fumi による豪華共作で、すでにプロモの段階で Nic Fanciulli、 Hernan Cattaneo、 Satoshi Tomiie、 DJ Vibe、 Demi、 Aldrin、 James Talk といった錚々たるメンツが絶賛、プレイしている注目のアイテムとなっている。その洗練された空間シンセとグルーヴィーなリズム・トラックが織り成す極上のエレクトリック・ハウス・サウンドは、絶対に見逃す手はないだろう。

'Reminiscence EP' は、 hrfq.com にて本日より配信開始。試聴、購入を希望の方はコチラをクリックして欲しい。また、各トップDJからのフィード・バックは以下の通りとなっている。


Nic Fanciulli
"Reminiscence ep is amazing!!!"

Hernan Cattaneo
"really good !! metamorphosis is rocking all floors!!! all the best with the label!"

Satoshi Tomiie
"Reminiscence is really cool track, will def play out for sure"

DJ Vibe
"Great stuff! Metamorphosis is my fav. Lat in the morning!"

Demi
"like the reminiscence one a lot !! lovely deep thing !! u got my support on it"

Neil Quigley
"I am LOVING these tracks!!!!! Especially Metamorphosis, fucking incredible!!!! 10/10 - top of my chart :)"

Aldrin (Zouk)
"Reminiscence is really nice. Beautiful, lush tech house... perfect for summer!"

James Talk
"wicked!!!! reminiscience is dope, deep!!!!!!!!"

Jim Rivers
"loving your reminiscence ep, full support from me,quality matere all, deep but techy and really good groove, will play at both gigs this weekend"

Sam Ball
"Metamorphosis is good peak time melodic action, full support from me. 9/10 Reminiscence is wicked for warm ups, deeep as fuck!! 8/10"

OrtzRoka
"Reminiscence is an awesome track, amazing strings, we're both wondering how you put that together! Also like Metamorphosis, more sparse and minimal for teh afterhours set"

Leigh Morgan (Urbantorque)
"Really like bother tracks with perhaps 'Reminiscence' just shading it for me on a deep tip,but wicked house music all round mate, full support from me"

Adam Carter (Hyperxclusive)
"i really REALLY love Reminiscence its very very hot!!!
ニュース : Satoshi Fumi、 Total Confusion が新作をリリース (2007/07/23)
パーティ−・レポート : FUNDACION feat SASHA & OSAMU M @ WOMB, TOKYO (2005/11/11)
パーティ−・レポート : SUBMERGE feat LUKE FAIR & OSAMU M @ UNIT, TOKYO (2005/05/03)