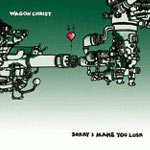 WAGON CHRIST / SORRY I MAKE YOU LUSH
Label : Ninja Tune / Cat No. : ZENCD91
Format : Original CD / Released : 30th June, 2004
Style : Down Tempo, Trip Hop
The single most provocative thing about Wagon Christ is working out how Luke Vibert came up with the name. I had plenty of time to ponder the question while meandering his latest album, Sorry I make you Lush. My conclusion; Vibert sees himself as Christ with a Wagon or, failing that, he took a long weekend away to the country and saw a wagon and said, 'Wagon? Christ!' and, bizarrely, it stuck.
My time might have been better spent contemplating the music, but why should I? In a recent interview Vibert declared that he likes to knock out an album a week and, get this, he doesn't understand why people think about electronic music so much. Why not just say, 'my music's shite, please, just leave me alone!' At one point I felt determined to inject a self confidence booster into poor old Luke and prove him wrong. But, having now heard the album I must I agree with his declaration. Do not contemplate the quality of Wagon Christ's music, it'll just confuse you.
Not that Sorry I make you lush is bad per se. If it was your first album ever, or you'd spent your adult life producing UK speed garage then I think you'd have every reason to congratulate yourself for creating this Compact D of sonic fluff. However I've seen/heard Luke Vibert at the Big Chill and know he is the granddaddy at pretty much every decent breaks and hip-hop label around including Warp, Mo Wax, Planet Mu and FFRR. The guys the bollocks; an innovator in the studio, a force on stage, a mentor setting the standard since releasing Sunset Boulevard on Rising High in '94.
Somehow therefore, and don't ask me why, this album being OK but not great complements Viberts overarching all-round talent. Sorry I make you lush just doesn't sell the man as effectively as he deserves to be sold, and that's without even thinking about his interview technique. There are moments I suppose, particularly the cartoon animation that comes with the CD, the lo-fi production and thoughtfully synchronised story makes this very enjoyable. I'm Singing is a pleasantly balanced track built on good audio synthesis, Sci-fi Staircase twirls around a motif one could describe as groovy, and there were times I thought about singing along. But everything here is made within the realm of pleasantry, no boundaries and no pushing.
In short I recommend getting your hands on a copy of Wagon Christ's new album. But only if you have access to a free download site with a fast connection (at least 1MB)! This is not a 'must have', in fact it best fits the most cursed adjective of modern English, nice. In the words of Luke Vibert himself it's 'Wagon Christ', whatever that means! (Stuart Holt)
Track-listing
01. Saddic Gladdic
02. I'm Singing
03. The Funnies
04. Shadows
05. Quadray Discos
06. Ubformby
07. Sci-Fi Staircase
08. Sorry I Make You Lush
09. Kwink Wide Trax
10. Nighty Night