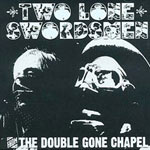 TWO LONE SWORDSMEN / FROM THE DOUBLE GONE CHAPEL
Label : Warp / Cat No. : WARPCD119
Format : Original CD / Released : 30th May, 2004
Style : IDM, Rock,Techno
"What the the fuck are they up to now?" This, say electro stalwarts Andrew Weatherall and Keith Tenniswood, is what they expect you to think when you listen to their latest offering.
They didn't really need to spell it out. For fans hoping for another slice of the liquid, ear-friendly electro tunes that graced previous LPs Tiny Reminders and Stay Down, it's obvious from the off that something's awry.
The foreboding dub bassline of opener 'Stack up' comes as a warning shot that the former Sabres of Paradise are about to take us off on a radical departure from their back catalogue, on an improvised journey into the murkier reaches of their own psyches. The inventiveness and the multi-textured sounds are still there, but in a stripped-down, rawer, dirtier incarnation. From a duo who have consistently set the standard as accomplished techno studio professionals, the unpolished lo-fi production is at once refreshing and vaguely unsettling.
Track 2 sees Weatherall make his singing debut for the swordsmen, if you can call it singing. It's more reciting obtuse lyrics over a fluid downbeat groove in the Karl Hyde/Underworld mould.
So far, so interesting, yet still roughly recognisable. But it's with the third track, 'Formica Fuego' that the album really goes off on one. Tenniswood is on the bass guitar, and the beats are provided by a real live drummer, apparently on Jah Wobble's old drum kit that got left behind in their studio. The song sounds more like The Pixies than anything else from the Warp stable.
The album continues in a largely similar vein, with distorted guitars and feedback chopped up with dirty grinding basslines, and just to remind you who this is, the usual seasoning of electronic squiggles and sound FX. It's an intriguing new formula, and Two Lone Swordsmen seem keen to experiment with it. A cover of the Gun Club classic 'sex beat' is one for the indie kids to pogo to. 'Sick when we kiss' is a reality check back to more familiar territory, while 'Taste of our Flames' is a beautifully twisted, melancholic space-out with more-bitter-than-sweet vocals reminiscent of Ruby, before the album rumbles to a climax with the melodramatic, strings n' all, 'Driving with my gears in reverse'.
Weatherall's motivation for this startling change of tack is reportedly that he was wanted to break away from generic machine-made music, to sing for himself and re-inject human emotion into his work. He must have had some serious inner demons to exorcise, because Double Gone Chapel is fucking dark The pair made their names making chill-out tunes to soothe addled minds, but it is a brave clubber who would dare attempt to pull off a comedown to this music, especially with Weatherall intoning things like ''The voices they cry/It's likely you'll die/pounded by punches and knives'' over the top.
With Double Gone Chapel, Two Lone Swordsmen have made an audacious, genre-bending stab at reinventing their blueprint, which is a good thing. They have also quite possibly invented the electronic dirge, which isn't necessarily a bad thing, but takes some getting used to.'Simple Rhythms/Maybe one to listen to chants Weatherall on 'Faux'. Simple rhythms this aint, but definitely worth a listen.(Ben Thrush)
Track-listing
01. Stack Up
02. Faux
03. Formica Fuege
04. The Lurch
05. Sex Beat
06. Damp
07. Punches And Knives
08. The Valve
09. Klamanda's Response
10. Sick When We Kiss
11. Taste Of Our Flames
12. Driving With My Gears
13. In Reverse