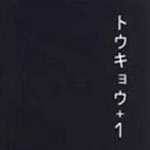 THOMAS BRINKMANN / TOKYO + 1
Label : Maxernst / Cat No. : 88139026062
Format : Original CD / Released : 26th March, 2004
Style : Electronica, Downtempo
I really envy the global electronic music producer. With production facilities condensed into a few kilograms of high tech computer equipment and high-speed Internet access, they are finding their working environment much less geographically confined. They can operate pretty much wherever they want.
With live albums long bringing us a taste of an overseas event this new concept of remote production influencing the final product, gives us and insight into the perception artists have of foreign environments. Pioneered by artists like Scanner the art of sampling the ambience indulges the listener with a foreign experience that no 'live at ' album can.
With only a sound recorder and laptop Thomas Brinkmann has created an aural interpretation of the eastern metropolis in his own, unique, minimalist way. Trains, voices, machines and a host of other noises that pass us by in everyday life are dissected and reformed into tracks that really capture the essence of Tokyo.
From the dance floor friendly 'Mit Sugar' to the more sinister sounding '109 Competition' this album is a gritty ride. 'Love song is a dark reflection of industrial loyalty while 'E-Bar' invokes images of a solitary electronic society. With perfect timing, and often perfect mistiming, this album, although not accessible/acceptable to many music fans, deserves a lot more credit than it will probably get. (m.cheetham)
Track-listing
01. E Bar
02. Mit Sugar
03. 10g Competition
04. 3 Street 2 Shinjuku
05. Decoupe
06. Matesong
07. Mamasx
08. Love Song
09. Ikaria
<!:-***diskreview***-->