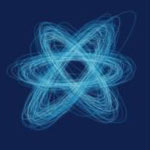 ORBITAL / BLUE ALBUM
Label : Orbital Music / Cat No. : ORBITALCD001
Format : Original CD / Released : 21st June, 2004
Style : Techno
I was never a die hard Orbital fan, I thought their albums had some amazing tracks but none had the same optimistic, exciting new sound their debut album, loved and known as 'The Brown Album' did. The start of something special it captured the then, new dance music phenomenon and took it forward, and is now widely credited as one of the pioneering techno albums. Played constantly throughout my youth I was especially interested in this release when I found out the title of the new album was the Blue Album, intended no doubt as a sequel to their mighty debut album and the final chapter in their enormous contribution to dance music.
With collaborations from 70's UK artists, Sparks and Dead Can Dance's Lisa Gerrard it follows on from the 2001 release ' The Altogether ' with dark messages and religious undertones. This albums satan is track number 3, 'You Lot' featuring a speech by Christopher Eccleston from the drama, 'The Second Coming'. Warning of a misuse of power and knowledge the track is typically orbital. It, like many of their tracks has what brings them so close to their fans, the ability to communicate their ideas and feelings with their music.
From the classic blipped sequences on 'Transient', to the thumping 'Acid Pants', squelching acid loops ever present, the sound is typically Orbital. The sound they created and have carried with them from the beginning that no-one has quite managed to match.
I don't know if I'm just getting a bit sentimental but I don't feel this album isn't a fitting end to the career they've had. It just doesn't leave an air of completeness as the last track, 'One Perfect Sunrise' which will inevitably draws comparisons with Halcyon, finishes, leaving the silence.
I'm quietly optimistic though, individuals have gone on to do great things after splitting from a group and I'm sure whatever the Hartnoll brothers do next will retain genius elements that they are known for. But whether they can recreate the magic that happened when they were both together remains to be seen. (m.cheetham)
Track-listing
01. Transient
02. Pants
03. Tunnel Vision
04. Lost
05. You Lot
06. Bath Time
07. Acid Pants
08. Easy Serv
09. One Perfect Sunrise