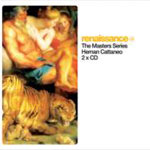 HERNAN CATTANEO - RENAISSANCE: THE MASTER SERIES
Label : Renaissance / Cat No. : REN11CD
Format : 2CD Mixed / Released : 16th Feb, 2004
Style : Progressive
Hernan Cattaneo, Argentina's, and probably South America's biggest dance music export confirms his position as one of electronic music's living legends with this release on the highly respected series, Renaissance's, 'The Master Series'. The club that was started in Nottingham, (UK) in the early 90's, pioneered the progressive sound from the early days producing world famous artists such as Sasha, Digweed and Pappa.
With previous albums in this Master's series from Nick Warren, Deep Dish, Danny Howells and Sander Kleinenberg, 'The Master Series' has so far reflected the cream of international artists that play what can easily be recognised as the Renaissance sound. Epic tracks crossing the boundaries between progressive, tech house, electro and techno, Renaissance's music almost has a timeless quality to it, important with so many compilations being released these days, 99% of which I usually stop listening to after a couple of months. But with a small minority their appeal outlasts all the others and, thankfully for Renaissance, (although the series name does suggest some amount of confidence in this release), this album is one of them.
I mean, its pretty much a guaranteed winning formula, take one world famous club, add a DJ that's so good Paul Oakenfold signed him to his label and mix it with some of the best new releases and remixes and you're always going to shift a few records. But this time Hernan really has done Renaissance proud, in fact I was almost surprised the Argentinean star hasn't recorded for them before, their musical style and direction almost fitting exactly with each other. Well paced track selection, building up gradually from more mellow deep house, through some tech house, progressive and even a bit of techno to the climax at the end of the second CD, the whole album seems like one continuous blur thanks to Hernan's perfectly timed mixing skills.
Starting off with some mellow deep house Casa Flava's 'Homa' and 'Scarpia' by Alexander Kowalski the mix gradually works up to some harder progressive tracks. The highlights of the first CD come later with the bouncy epic 'Dreams' by Bill Markis and Tiger Corp's chunky 'Cultural Assertion' returning the Master's series to a style resembling the earlier classic mixes released on the label by then residents, Sasha and Digweed. Albums over 10 years old that still get played on my stereo even now.
The second CD starts with the cheeky 'Closer To Me', produced by Chab it makes no disguise of its cheeky Michael Jackson sample mixing the funky synth sounds with driving bass. Next into techno, the acid influenced 'Oakish' by Josh Wink keeps things moving on towards Hernans own production, 'Behind the Music' produced with Dean Coleman. A trance epic that guarantees hands in the air on almost any dance floor the mix progresses getting harder and more absorbing with tracks by Danny Howells, Luke Chable and Steve May before climaxing with the Wrecked Angle remix of the original masters of trance, The Age Of Love.
A perfectly executed mix from the Argentinean Perfecto star, defining him and Renaissance as true masters of the progressive electronic movement. (m.cheetham)
Track-listing
Disc 01
01. Darko & Gainer : 'Ayahuaska' (Reprise)
02. Richard Davies : 'In The Air'
03. Pams Magic Tractor : 'Time To Kill' (DJ Harvey Remix)
04. Casa Flava : 'Homa'
05. Alexander Kowalski : 'Scarpia'
06. Bill Makris : 'Honey'
07. Rolasoul : 'Lost In Power' (Dub)
08. Bill Makris : 'Dreams'
09. Matthew Dekay & Alvredo : 'Symbiosis' (Herbal Dub)
10. Jay Tripwire & Grant Dell : 'Slo' Roast'
11. Tigerhook Presents Randall Jones : 'Cultural Assertion'
12. Agent 001 : 'Bubblebath' (16b Mix)
13. The PQM Project : 'Aenema'


Disc 02
01. Chab featuring JD Davis : 'Closer To Me'
02. Wink : 'Oakish'
03. T-Empo : 'Fouk' (Acapella)
04. Amillionsons presents 21st Century Planet Smashers : 'Underground Night Music' (Dub)
05. Hernan Cattaneo & Dean Coleman : 'Behind The Music'
06. Morgan Page & Gregory Shiff : 'All I Know' (Hernan Cattaneo & Martin Garcia Mix)
07. Alex Dolby : 'Hazy Way'
08. Luke Chable presents Quest : 'The Sheppard'
09. Steve May : 'Open Day'
10. Danny Howells & Stef Vrolijk : 'Phono Corono'
11. Grand Resonant : 'Central'
12. Age of Love : 'Age of Love' (Wrecked Angle Mix)