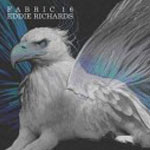 FABRIC 16 / EDDIE RICHARDS
Label : Fabric / Cat No. : FABRIC31J
Format : Mix CD / Released : 29th May, 2004
Style : Progressive, Tech House
'Evil' Eddie Richards has been around for ages and ages. If you're interested in the history of dance music and don't know Eddie Richards then you should find new interests because Eddie's been in the dance business for a while, at least a 16 years while. He was one of the first to put acid into parties, fronting the Clink Street variety from1998 alongside The Shamen deity Mr. C. Since then he's helped propagate more variations of house music than is, judging by recent photos, particularly healthy.
The legend however, doesn't make Eddie Richard's recent mix CD, Fabric16 good, it just makes him older then me. I'm not being ageist here, I'm all for fetishising the founding fathers of what I love most. Music after all, is so important and so powerful because of the underlying unfathomable mystic nostalgia underpinning it. It's inevitable that we project some of that stuff onto its producers (encouraged by a willing industry of course). But equally it's a crude way to sell records, and a sure way to shoot yourself in the foot if what you're making is crap! [For examples see the state of dance music towards the end of the 1990's. An ultra-commercialised industry fronted by a bunch of has-beens with corporate backing. And that's exactly how it sounded].
Fortunately for Eddie, Fabric16 isn't crap. It's a perfectly respectable tech-house mix complete with smooth groovy bass-lines like the one in Corrie's Scorpio (track 4), squelchy samples driving syncopated hi-hats (try Butterfly Lips by Loft 55) and speckled with samples of sexy people who sound like they're from North America. It's a funky lounge vibe.
For my tastes, it's a bit too smooth. But given the right environment; swimming pool party filled with taught bodies in the tropics on a not too hot, not too cold night with mood lighting hitting the palm trees say, I can't imagine you doing much better. (Stuart Holt)
Track-listing
01. Old Skool Split (Ricardo Dias/Pedro Vilas Boas) - Joined
02. Eddie Richards - Be Still
03. Freddie Montanez Ft Jessica Lynn - Vegas Nights (Audio Soul Project Rerub)
04. Corrie - Scorpio
05. MastikSoul - I Believe (MastikSoul Remix)
06. Gideon A.D.D & Marky Star - High As Can Be (Dreddteks Get Up Remix)
07. Dexter - Shwing
08. Little Mike - 11th & Broadway
09. Primoz - Push Me
10. DJ2 - Plural
11. Robin Porter and Mike Carr - Fathernature
12. Living City - Steppinf Out (Tunnel Mix)
13. Pure Science - Do U Know House?
14. Loft 55 - Butterfly Lips


<!:-***diskreview***-->