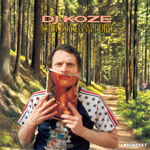 DJ KOZE / KOSI COMES AROUND
Label : KOMPAKT / Cat No. : KOMPAKT CD43
Format : CD / Released : 12 Sep 2005
Style : Electronica
In this latest release from Kompakt we are encouraged to invite Kosi into our house as DJ Koze supplies us with nine of his latest tracks ranging from driving head bopping tunes to smooth as silk melodic numbers.

The first track on the album, Estrella, is a mellow affair and successfully eases us in with strings, plenty of echoes and infectious stuttering sounds. Estrella also provides the first hints that this album is likely to cross borders between indie and dance. More upbeat, Raw steers towards a minimal house sound and just incase it wasn't obvious a man's voice reports that this is indeed "house music". The origin of track three's title, Don't Feed the Cat, becomes evident just as the charging beat is accompanied by an electronic meowing. The overall effect is that anyone in its path is forced to enter a rhythmic groove which they cannot shake off until the track's end. Not immediately obvious Barock and Ring prepares us for a return to DJ Koze's indie side. With an almost jazzy sound thanks to a double bass sample that occasionally rears its head, Barock and Ring is perfect for lounging around on the morning after the night before.

The whispering vocals of My Grandmotha help make this track the highlight of the album. A fellow contributor to this track's superiority is its dreamy feel which once again is perfect for trying to shake off the consequences of the previous night's debauchery. Instantly we are instructed that Danger Nugget is not going to be such a laid back affair. A whirring bass line and pong-esque sound effect pull us back into our almost forgotten groove. The darkness of Danger Nugget soon gives way to a full bodied bass line in the form of the Gekloppel Continues. The clanging sounds once again driving the CD to that special rhythmic place. Brutalga Square continues the drive forward this time taking us a lot deeper and cementing our bodies into dancefloor mode. The only thing with the power to break this cement is the paradoxically gentle sounds of Chiminea. Chiminea manages to coax our minds and bodies back down to earth as the guitar washes away any weariness and we can drift off into a wonderful dream world.

Kosi Comes Around demonstrates perfectly electronic music's ability to cross many borders. Dancefloor killers have been placed alongside mellowed out tracks that are perfect for that lazy Sunday afternoon. Somehow DJ Koze manages to string all this together into a coherent piece of work. You'll be very happy that you invited Kosi over for dinner and even happier that he brought some fresh scones. (Nick Lawrence)


Tracklistings
01. ESTRELLA
02. RAW
03. DON'T FEED THE CAT
04. BAROCK AM RING
05. MY GRANDMOTHER
06. DANGERNUGGET
07. THE GEKLOPPEL CONTINUES(*)
08. BRUTALGA SQUARE(*)
09. CHIMINEA
(*) CD ONLY - PREVIOUSLY RELEASED ON 12"

<!:-***diskreview***-->