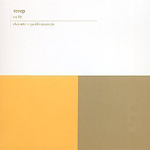 ALVA NOTO + RYUICHI SAKAMOTO / REVEP
Label : Raster-Noton / Cat No. : R-N72
Format : Original CD / Released : 01/06/2006
Style : Electronica, Minimal
If you are a fan of the crowded, element heavy electro that is often passed off as minimal these days then you are not going to like the latest outing from glitch meister Alva Noto and Japanese pianist Ryuichi Sakamoto. Were others claim to be astute students of the school of minimalism (and fail dismally) "Revep" state with conviction that it is the tutor, teacher and headmaster all rolled into one. Noto and Sakamoto have even kept the amount of tracks to a bare minimum, but don't let the modestly lengthed tracklist scare you off this album can offer you much more than any regular sized album or even 3CD compilation.

Turn the volume up loud enough while listening to opening track 'Siisx' and you'll hear unmistakable white noise. A mistake or recording problem? Not likely, nothing is an accident with these two virtuosos. Clicks, taps, clacks and taps skitter across the soundscape as Ryuichi's expertly knocks away at the ebony and ivory. Don't be surprised if you feel your throat tighten and a frosty sensation spread through your anterior lobes. Music? Art? Whatever it is this is less about listening and more about feeling.

Subtract the white noise, soon to be returned in a slightly altered form, and we have the beginning of 'Mur'. Sakamoto strikes the keys as if sounding a bell and Alva Noto provides more mouth-watering scratches and concentrated beats. Only the sharpest ears will notice the subtle changes from the previous composition but keep your ears open and the rewards are considerable. These two collaborators employ the piano like the composers long gone to evoke emotion and stir feelings. Neo classical outings like 'Siisx' and 'Mur' help to lift this timeless instrument out of the handbag house cell to which it has been condemned for so long.

For the uninitiated Ryuichi Sakamoto was responsible for the theme song to 1980's East meets West silver screen excursion "Merry Christmas Mr. Lwarence" starring Takeshi Kitano and David Bowie, minus of course the posing pouch he proudly donned in his "Labyrinth" role. 'Ax Mr. L.' is somewhat of a remix of Sakamoto's popular tune. Here notes appear to hum amidst a light spattering of static. When compared to the sparseness of the anteceding song the stuttering sounds and purring keys utilized during this track almost feel like an overdose of stimulation, almost. Compare it to anything else, say music by Isolee or current minimal poster boys Richie Hawting and Ricardo Villalobos and you'll be left wondering why they bother with all those superfluous samples.

This isn't by any means an album to let loose and rock out to. In fact it is a refreshing change from all the electro sounds Tiefschwarz et al are dressing up as click, glitch and minimal. Play this at a party and you'll be hung, drawn and quartered but turn it up a the next annual meeting of the chin strokers society and you'll be hailed a hero. By all means listen to this CD numerous times but just be careful because there is a reason the album is only three songs long. Any more of this cleverly crafted masterpiece and you'd never want to waste your time with any of that other stuff posing as music. (Nick Lawrence)

Tracklisting
1. Siisx
2. Mur
3. Ax Mr. L.

<!:-***diskreview***-->