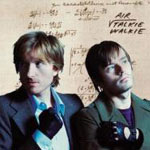 AIR / TALKIE WALKIE
Label : Virgin-EMI / Cat No. : CDV2980
Format : Original CD / Released : 2004/01/26 (Japanese release date)
Style : Downtempo, Electro
Floating gently on a sea of synth-pop this album, the third from the French duo is possibly their most accomplished piece of work yet. True original musical creators, each album so far has been an innovation, forging and developing not only their sound but also the sound of electronic lounge with each release.
Engaging, provocative, audio perfection, the band have spawned an entire musical sub subculture since their debut album, 'Moon Safari' with artists like Goldfrapp, Zero 7 and Lemon Jelly following them. This release, their 4th studio album, is, to put it simply, absolute genius.
Casting a spell of sonic magic with every track, the haunting vocals, the irresistible melodies, the drowsy rhythm, all composed and assembled to create a beautiful world of melancholy situation, dreamy afternoons and childhood wonder, yet carried off with an underlying sense of cynicism that captivates the listener and make them return to this album again and again.
From the turbo charged organ and guitar lines on 'Surfin on a rocket o the peaceful completeness of the magical ' Alone in Kyoto' the album conjures up a different mood with each track, each adding its own chapter to the album. They have used their skill with analogue, electric and electronic instruments to create wonderfully perfect pop epics, aided by Radiohead producer, Nigel Godrich.
Cherry Blossom Girl, the first single off the album, (released as download only) is a typically Air ballad, hazy flute over a background of crisp guitar chords overlain with brilliantly effortless vocals. 'Alpha Beta Gaga', an instantly memorable instrumental of banjo's and synth backed up by whistling that will have you joining in before you realise.
I could go on.......
Endlessly describing the textured complexity of the beautiful sounds Air creates. But there's really no need, just trust me, find someway to get your hands on this album as soon as possible, you'll listen to it for the rest of your life. (m.cheetham)
Track-listing
01. Venus
02. Cherry Blossom Gir
03. Run
04. Universal Traveler
05. Mike Mills
06. Surfing On A Rocket
07. Another Day
08. Alpha Beta Gaga
09. Biological
10. Alone In Kyoto