Kaiser Chiefs, Red Marquee, 16:30
The afternoon's pop rock/pub rock Kaiser Chiefs offering would set the stage for the weekend's recurring theme, unique to Fuji Rock- tortured "arrigato's" after virtually every song. Still, vocalist Ricky Wilson's were among the less agonized, as he led the mod-revival Leeds based fivesome into a crowd-pleasing set taken largely from last year's debut album Employment. A heaving response from most of the crowd didn't hide the suspicion, however, that a hefty proportion were holding out for the boot-stomping romp "I Predict a Riot", the band's hearty salute to Paul Weller's mod spirit of The Jam. It worked the magic, they predicted a riot, but they got an exodus - as they launched into "Caroline, Yes" part of the crowd was already filing out in droves. That was more to do with fellow Leeds band The Music tuning up on the Green Stage, it has to be said- the Kaiser Chiefs delivered a solid, spirited performance that would have done the soundtrack to a film like "Quadrophenia" proud.

The Music, Green Stage, 17:30
Once you get over the nagging truth that calling your band "The Music" is a bit like calling your restaurant "The Food", or your cat "The Animal", you have to hand it to the boys from the north that what they lack in catchy monikers they more than make up for in frenetic live shows. John Digweed told us not so long ago that the main reason he was keen on remixing their guitar driven, anthemic "Freedom Fighters" was because it was "very guitar, very heavy.... and had a kind of Happy Mondays feel". So do vocalist Robert Harvey's onstage antics compare to those of hooligan street-poetry virtuoso Shaun Ryder? If you're talking upbeat funk meets baggy rock and a crowd going mental, yes, but as for the poetry, Ryder gems like "you're twisting my melon man" might have about as much meaning as an ashtray on a motorbike, but let's face it, they sound cool. Harvey's equivalent quips to the crowd, like "Today is about you people, the truth is no words!", which he made after "Take the Long Road and Walk It", mean less and sound worse, but hey, with a live show like this we can forgive the odd bit of ill-judged college pretense. The crowd's response to their blistering "Welcome to the North" and the bass-driven insanity of "Cessation" was vindication enough. Take the early proponents of Indie/dance fusion The Stone Roses, pop-tinged US classics Pearl Jam and Soundgarden, add a touch of guitar-laced scorchers Led Zeppelin, and you get... not just any music, but THE Music.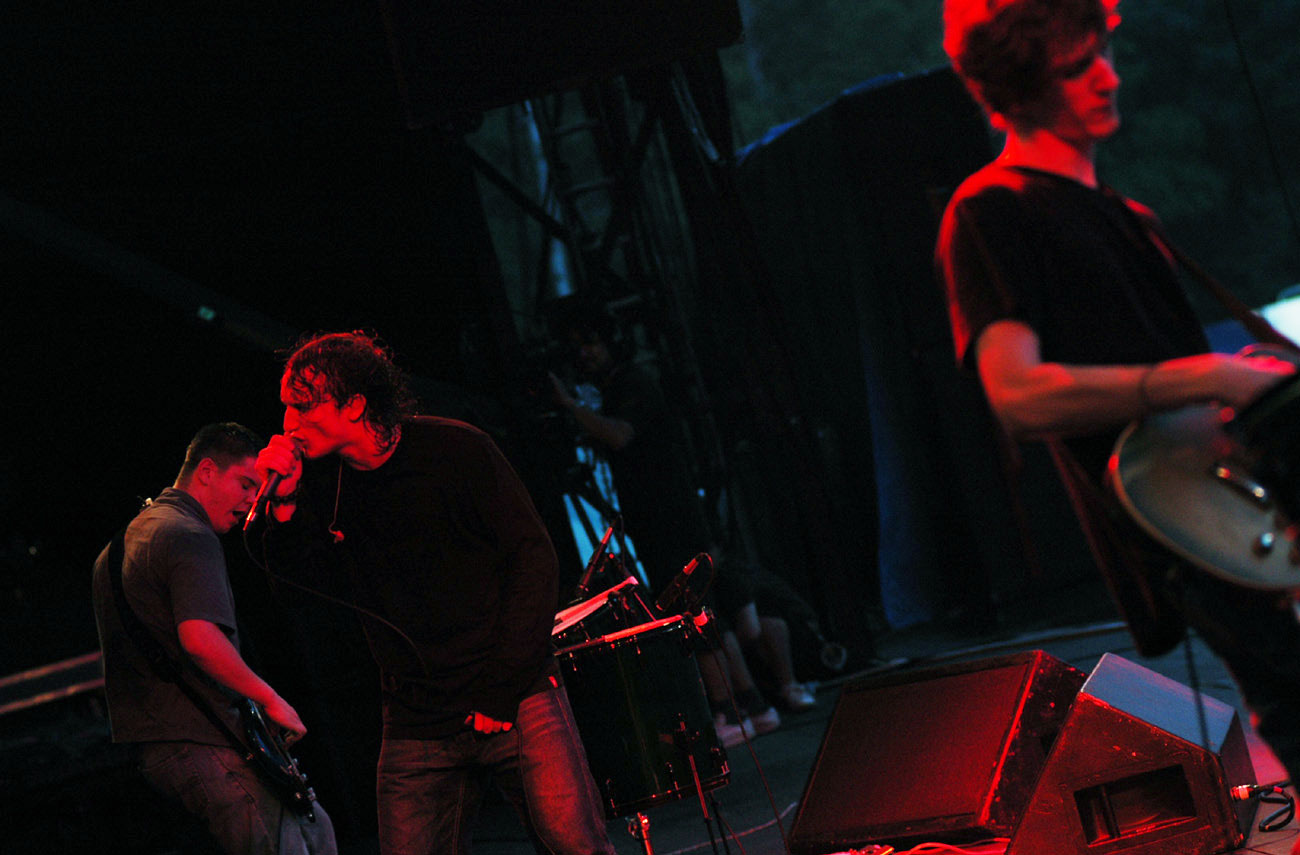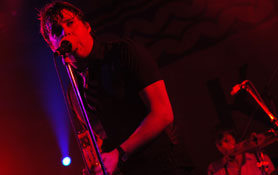 Coldplay, Green Stage, 19:20
It seems these days that saying Coldplay are overrated is a bit like saying the Pope wears a silly hat— it might be true, but you feel you'd be struck down by lightning for saying it. But are we being a wee bit unfair to the ten-million-album-selling, Hollywood-actress-marrying, US-chart-topping, monster UK quartet? Well, when they opened to the biggest crowd of the weekend with "Square One", it didn't really matter what you said about them— the crowd (a sizeable part of which had probably come just for this) was mesmerized. Those of us who couldn't shake the thought that their last album "X&Y" had, somewhere during the creative process, fallen into a vat of vague insipidness were forced to do no small amount of word-eating— when they play live, you can't accuse these boys of lacking passion (it wasn't hot enough for Chris Martin to be sweating that much).
They played with a discernible rock edge, gave it just the right amount of pathos for the ballads, did plenty of sing-along crowd pleasers from "Parachutes" and "A Rush of Blood to the Head", and Martin's performance was zealous enough to suggest they are trying to live up to their leviathan status. But the enduring question in most people's minds was: "Is Mr. Martin just a tad bitter at having to play under the Foo Fighters?", a band who, after all, they beat to the No. 1 US chart position with their last album. Martin twice made quips in his lyrics to former Nirvana kitman David Grohl's band, notably in "Yellow", where he crooned: "Look at the stars, see how they shine for you, and the Foo Fighters too". Salutations or sour grapes? Either way, it was unnecessary. Inter-band banter aside, this was a set that would keep the fans happy; bold and emotional, framed with two songs from the new album (they finished with the majestic, beautifully structured "Fix You"), and not without its inadvertent comedy, when the first words Chris Martin bellowed, with ill-timed enthusiasm, were: "Hello Japan! I believe the word is 'sayonara'!". Mild guffaws from the 'Anti-arrigato's at Fuji Rock' camp aplenty.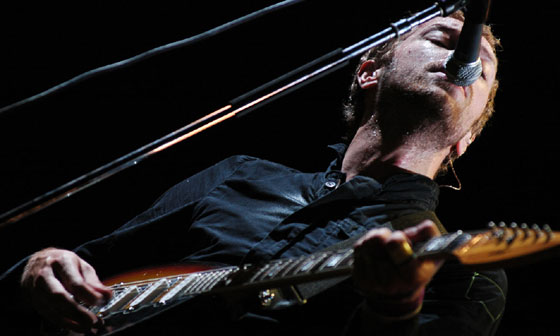 The Pogues, White Stage, 20:30
The recent proliferation of Irish bars in Tokyo has seeded another phenomenon: the rise of the wannabe Irish folk band—earnest and sincere they may be, but sometimes is it too much to ask to have a pint of Guinness in peace...? How grateful we should be, then, that we have The Pogues, reunited with their death-defying frontman Shane MacGowan, to show us how it should be done. The long and muddy walk to the White Stage meant we only just managed to catch the last part of "If I Should Fall From Grace With God", but the band's unique brand of whiskey-soaked barroom folk-rock mayhem, borne somewhere from the frenetic and messy strains of punk, was unmistakable. The more Shane, paper cup filled with lord knows what in hand, staggered, the more the crowd went ballistic. Shane slurred through an array of classics, including "A Rainy Night in Soho" and their finale "Fiesta", songs penned with such inebriated brilliance from Shane's hand, it was obvious why firing him back in 1991 was the biggest mistake The Pogues ever made. Obvious too why they have no shortage of admirers here, the Cherry Coke$ being perhaps the most vociferous. MacGowan, apotheosis of the tortured, drunken poet of extremes, gave the most brilliantly intoxicated, incoherently beautiful performance of the weekend. Wannabe Irish folk bands take heed.

All Night Fuji, Orange Court, 01:10
The winding walkway through Naeba's woods was like queuing for a Disney ride. But this is Fuji Rock, it takes more than 40-minute tailbacks of torsos to daunt these festival goers, and the Fuji sense of geniality prevails as we patiently plod to the Orange Court. Except perhaps for those more British-minded punters, who just barge past anyway. The Orange court was heaving as we caught the tail end of Okinawa brothers Ryukyudisko's set, bringing their version of traditional, melodic Okinawan twangy things (called shamisens) meet pogo-bouncing, beat-bopping trance. Singer Nakamura Natsuki, who has recently collaborated with them, was on hand to deliver her nasal overtones of traditional Ryukyu music. Trance is, needless to say, a harrowing experience, perhaps another vehicle for bringing their musical vision to life could be in order. But all generic experimentation is good, and in the spirit of openness and reconciliation that characterizes Fuji, we were glad to catch a bit of this, and there was no shortage of intense bopping going on from the crowd. All Night Fuji is an open forum for generic cluttering, but there is one element that glues the dance acts together-the party. So it was with Denki Groove producer Takkyu Ishino's set, bouncing through tribal, harder edged house, stripping down to more minimal, ambient grooves, and twisting into heady electro. Classic Ishino - wherever his set went, the upbeat party vibe was felt throughout. Ishino is a veteran of crowd rapport, his technical acrobatics rise and fall and do summersaults with the crowd, but never lose it. Even after the cardinal sin of sampling Nirvana's "Smells Like Teen Spirit", the last refuge of a mortally wounded party set, we were still with him. Just.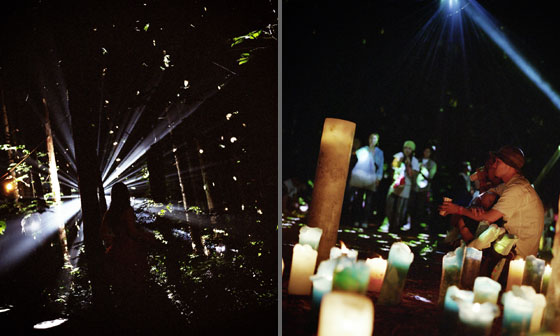 Evil Nine, Red Marquee, 03:45
UK duo Tom Beaufoy and Pat Pardy, who last November dropped their debut album "You Can be Special Too" on Adam Freeland's Marine Parade label, joined the Planet Groove party in the Red Marquee, where a smaller but harder crowd contingent remained. Their set reeled through a myriad of manic punk, deep house, garage rock and hip hop grooves all wrapped in a supercharged breakbeat package that slammed into one of the most appreciative crowds of the weekend. The crowd dynamics were perfectly matched for Birmingham-born vocalist Juice Aleem's precision rapping. Their recent collaboration "Pearlshot" had the crowd in near hysteria, and a visibly grateful Aleem managing to perform and shake hands with just about everyone at the same time. A searing set that was good enough to sample Blur's "Song 2", ordinarily in the Nirvana camp of DJ desperation, without the slightest sense that any crime had been committed. We were still reeling from this into Saturday afternoon.