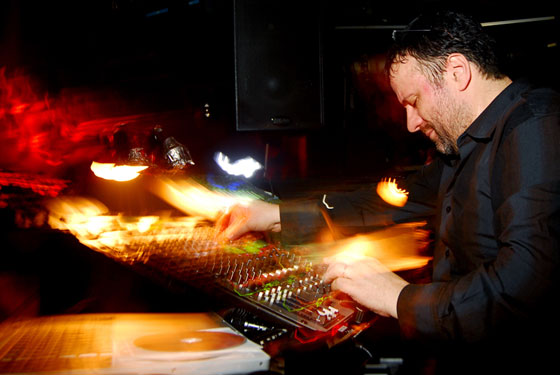 FOUR SEASONS OF DEEP SPACE feat. FRANCOIS K., SCION @ SPACE LAB YELLOW, TOKYO
DATE : 11 February 2007 (Sun)
DJ : Francois K.
Live : Scion
PHOTOGRAPHER : Asuka Hiyarama
Text : Cameron Eeles
François K has been a major figure in DJing pretty much since someone came up with the idea of attaching two turntables to a mixer. Spinning in New York since 1976, he's seen innumerable musical styles come in and out of vogue. At a recent party at Club Yellow, François was keen to display his musical eclecticism in a set that continually shifted styles. Pumping techno gave way to deep house, to Latin beats, to dub, to reggae, to bongo freakouts, to rock 'n' roll, and back again. François' mixing was technically excellent, with the veteran pulling off seamless mixes between vastly different styles of music.

Some of these changes, however, were far too abrupt and jarring, such as house suddenly slamming into a Jimi Hendrix track, or the sudden emergence of the Olivia Newton John classic "Magic". With the flow of the set changing every 20 minutes or so, there was little sense of progression or narrative. Of course, the flipside of this is that if at any time anyone didn't like the music, all they had to do was take a breather at the bar for about 20 minutes.
As interesting and varied as François K's set was, the highlight of the evening was a fantastic live set by Scion (René Löwe and Peter Kuschnereit), the direct inheritors of the tech-dub template laid down by the legendary Basic Channel. In 1995 Scion were the first act released on the Chain Reaction label, created by Basic Channel to continue their initial tech-dub explorations. Scion's music has the sound of thick swirling smoke that is distinctive to dub, but with a metallic edge to it. At Scion's fingertips these swirls of smoke were whipped into whirling vortexes, as jacking 4/4 beats came echoing out of the mists. For a solid hour Scion carried the crowd at Yellow into these vortexes, as waves of crackling, hissing textures and reverb washed across the dancefloor.

Scion proved that their sound is still as vital and exciting as when it was pioneered by Basic Channel in 1993. With the recent launch of their very own label, Scion Versions, and the rise of dub-step in Berlin, the world may indeed be primed for the return of Scion's metallic-edged tech-dub. I for one would welcome it, and given the applause and cheers coming from the crowd at Yellow, I'm obviously not the only one.

Party Report : Body & SOUL Live In Tokyo @ Velfarre (28/04/2005)
Party Report : JEFF MILLS presents CONTACT SPECIAL; DAY 02 @ WOMB, TOKYO (21/10/2005)