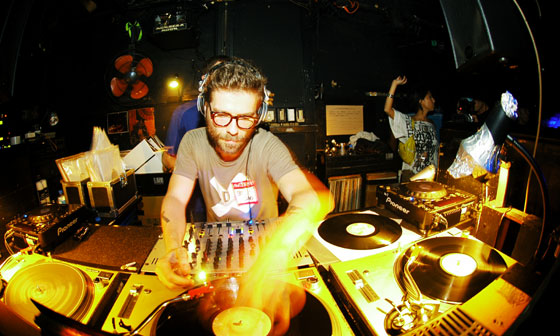 REAL GROOVES VOL 6 feat AKUFEN & MIKE SHANNON @ SPACE LAB YELLOW, TOKYO
DATE : 20th August, 2005 (Sat)
DJs : Akufen, Mike Shannon, John Connell, AKR
PHOTOGRAPHER : Mark Oxley / Official Site
TEXT : Nick Lawrence


Many people know little more of Canada than maple leaves, Whistler and Degrassi Junior High. However, apparently it has far more to offer and the crew at Real Grooves is obviously determined to prove this. Volume 6 of the 'Real Grooves' events brought two Canadians to the humble shores of Japan. Firstly, the world renowned Akufen and secondly the lesser known Mike Shannon.
Shannon was first in charge of the party's festivities and started off with some basslines capable of perforating ear drums. This was more than enough to get Yellow's capacity crowd migrating towards the dancefloor. For the entirety of his set Shannon insisted on utilizing thumping bass and driving beats. The only break in the constant pounding sounds was the occasional breakdown which drew endless cries from the all too satisfied punters. Shannon made a few attempts to take his set in a glitchier direction but the pounding basslines seemed against this idea and kept some more minimal elements at bay.



As Akufen took over there was an obvious shift in the music's direction. The techno driven sounds that epitomized the end of Shannon's set were quickly swallowed up by some funkier melodies that quickly worked the crowd into a booty shakin' frenzy. Tracks like DJ Sneak's 'Funky Rhythm' seemed to work magic on everyone's hips. This trend continued for a while with a groove building aided by punchy beats and pelvis thrusting rhythms. Akufen at one point decided to add a more old school flavour with a tune from the Jungle Brother's and in usual Yellow style the dancefloor responded with plenty of dancing which helped to create a definite party atmosphere This party atmosphere continued for the night's entirety despite occasional drifts in the set's overall flow. As Akufen began to tire, Mike Shannon returned to provide some assistance in steering the party on home. This resulted in a once again marked change towards a harder sound but the masses didn't seemed to mind and if anything it seemed to inject some well needed energy into many a tired leg. Akufen and Mike Shannon worked their hardest behind the decks to prove to people that Canada really is a force in the dance music scene. Their efforts were well received by the Tokyoites at Yellow on the night and Joey, Spike and the rest of the gang at Degrassi will no doubt be well and truly proud.




Interview : Akufen Interview in Tokyo (10/10/2004)