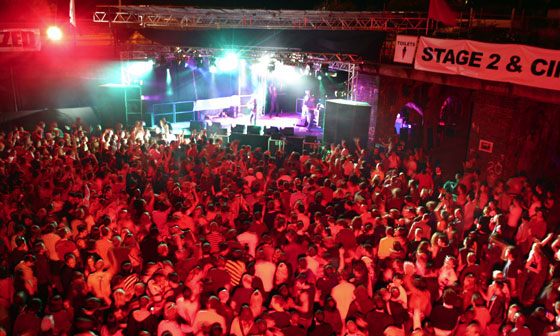 TDK CROSSCENTRAL at KINGS CROSS, LONDON
DATE : 27th-29th August, 2004
PHOTO & REPORT : Matt Cheetham (HigherFrequency, samurai.fm) / Official Site
TEXT : Stuart Holt
This is an event that had it all. A two day giant of an event that saw King Cross's infamous back yard clubbing arena transformed into London's largest indoor and outdoor musical gathering of 2004. The backyard in question included the old Bagley's Studios, The Cross, The Key Club and the arches and courtyard in between. This special part of the capital has seen me and thousands of others like me while away a significant portion of the experimental period of my youth, exploring dance music through social / chemical audio appreciation. So I felt a certain poignancy in the air around this musical convolution that excited me as I walked from the station up York Way to the festival site,



For a start, I couldn't think of a better place to hold such a well attended event. Second, the DJ roster was not produced to be taken lightly, no matter what your persuasion. You like hip-hop? How about some DJ Yoda, Freestylers or Scratch Perverts. Or how about the ultimate old school pick-me-up, Soul II Soul Sound System? Maybe you tend to lean towards the cutting edge of Plaid, Luke Vibert or Cylob, maybe Ninja tunes more your bag. No? Not your groove? Then get your hands in the air to funky endless beats from 2 many DJ's or LCD Sound System. And if you have any energy left then who could possibly argue with the likes of Derrick May or the truly inspirational Carl Craig??!! You could be excused in thinking the idea of Matthew Herbert, Jazzanova, Courtney Pine, Kosheen and DJ Krush playing on top of all this was erring on the side of silly!!!

What could possibly go wrong? Perfect venue, the best artists alive on the planet. Oh and did I mention the weather was pretty much bang on for an indoor/outdoor party? Hmmmmm, what's going on here? They didn't charge me ?100, just ?20. It can't be right, nothings this pure, something, somehow is bound to be just a little bit fishy, but where!!! B



I first caught a whiff of marine life when I ordered a beer. ?4 for a quantity of warm Stella equivalent to a capful of throat medicine, and that was the cheapest drink on offer. But the really stinky catch didn't surface until after they closed the outdoor stage. 2 many DJ's saw some stiff competition from far too many fans forced indoors. Suddenly all the rooms were rammed with people. No matter how good the sound system or quality of music emitting from it, it's a tall order trying to dance with a drink balanced on your head because your arms are jammed by your sides while some tall blokes elbow is stuffed in your mouth.

The punters must have been more excited then the people organising this years TDK! No wonder as they must have spent an absolute fortune getting their name in the magazines, on the flyers and posters, up on every bus stop, loo, bill board, pub, taxi and hairdressers from here to Scunthorpe.



So while the venue is big, it isn't so big when everyone tries to get into the same room. There was room for lots of people but I don't think anyone was paying attention to numbers. While the crowed got excited hopping from their old favourite club to their second favourite club next door, then upstairs to this room and downstairs to that other bar, the organisers didn't seem to know what hit them. Staff were stretched, and it all got a bit frantic when 2 many people tried to see 2 Many DJ's. Shame, because everyone was out for a laugh so those that couldn't get to have it were naturally disappointed.

However, this is not the note I want to leave on. I hope to see TDK grow into an annual, grow into King's Cross (which could do with some soul after a channel tunnel burrowed right into the heart of it) and come back in 2005. It offered some of the best music I've come across this year, particularly Carl Craig's double full drum kit, keys, trumpet and decks live setc genius! Maybe next year they'll just keep the outdoor area open throughout and alcohol at reasonable prices, because it'll be sure to make us all merry.