Seems hard to believe it was only a month ago we found ourselves swaying up this very same mountain to the dulcet vibes of Fuji Rock. Yet not wanting to miss out on the last notable music fest of the summer, we ventured halfway up Naeba's peaks once more, this time to sample the darker and edgier electronic thrills of Metamorphose, five years on from its conception and drawing an ever increasing and diverse following. Getting off the bus, we tried to ignore our deja-vu, and the faint sense that a biological calamity had afflicted Naeba in those short weeks, wiping out the residents and leaving it a ghost town. That soon ended right at the entrance. The organizers, in their divine wisdom, had enforced a no re-entry policy, and even our most colourful protestations weren't enough; no re-entry it was. We would just have to sit this beautifully harrowing night out with the rest of the revellers.

The area had been divided into three stages; Solar, Lunar, and a new addition, the !K7 stage, the first record label to have its own stage at Metamorphose, attached somewhat bizarrely to the edge of the food court. A return of all the usual world food suspects here, so it was straight to the Ghanaian stall to stuff our faces with one of those curries that were always sold out at Fuji Rock. First result of the day. The rest of the area housed everything a self-respecting bazaar would need: clothes stands, hat stalls and overpriced accessories, likely to be lost up the mountain in the course of the night. The Japan Anti-Vivisection Association (Java) had also set up shop, urging us to give fur the cold shoulder and providing some much-needed ethical focus to an otherwise debauched evening.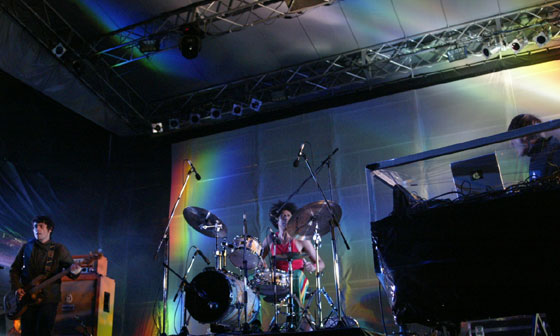 Do-it-yourself midi systems, drums and mixers were supplied by Roland in a free-for-all jamming tent, inviting the budding musicians/DJs/sound engineers among us to make complete donkeys of ourselves in plain view of anyone bothering to watch. Oh, the lengths some people will go. And if that was all a bit too painful, you could always take a breather at the cafe next door with its drive-in projector showing random paraphernalia from bizarre 70s funk acts to 60s psychedelica to Ultraman.

But we were all itching to get on with the night, and still unsure of what to do with the afternoon. The summer had clearly forgotten Naeba, and we were treated to a dose of British weather at its finest. Thankfully, Tony Allen, the Nigerian-born godfather of Afrobeat, was at hand to ease us into his sublime rhythms on the Solar stage. It quickly became obvious why Damon Albarn was so keen to collaborate with him. Meanwhile, the tech house strains of Kenji Takimi on the Lunar stage, returning to Naeba after a jaunt at Fuji Rock, warmed us up even further.

Early evening settled in over the Lunar stage, where Eye, of Osaka's noise-rock Boredoms fame, gave a characteristically eccentric performance, with a clear hard core contingent of fans in the crowd. Manipulating his sampler/mixer/decks, fusing everything from Latin grooves to hard house, and creating a beautifully unpredictable, frenetic noise that the crowd seemed to drown in. After a medley of Brazilian Samba vs. Drum and Bass from Boredoms guitarists' new outfit Rovo it was time for breakbeats/hip hop duo Hifana, who we last saw gracing the stage with the likes of DJ Yoda at All Night Fuji, to wrench our ears for half an hour on the Solar stage. Not for the faint hearted, their choreographed clatter of percussion, samplers and turntables suggested there can be method in madness, but only just. Their on-stage shenanigans ranged from abstract soundscapes to breakbeat mayhem, injected with ferocious, playful sampling. The drive of their set was in the manual, rhythmic percussion, no midi loops here, but after a while they began to look like a couple of kids on a Playstation. Sampling wizardry can overwhelm musical integrity, and when the sounds are forcing everyone in the crowd to dance like a prize bell end just to keep up, it's time to saunter on back to the beer tent. Even if that means talking to the fifth casualty lurching out of the Roland tent that night who insists they're a DJ.



As we plunged into the wee small hours, we were treated to a searing set on the Solar stage from Mouse on Mars, those two giants of the German techno scene, Andi Toma and Jan St. Werner, celebrating their 10th anniversary this year. Almost everybody here had congregated for this. Their homegrown collision of tech house, dub, ambient, rock; in fact, almost any hybrid imaginable, is proof that these boys just can't be pigeonholed. The set had party goers in a frenzy, culminating in the ultra-sleazy but eminently danceable 'Wipe that Sound' from their latest album 'Radical Connector'. A brilliant, edgy set that brought the crowd to near hysteria, leading the duo to bellow obligingly "You're the perfect rhythm box!" Don't know what it means either, but it seemed to make sense at the time.

Eager for more, we made our way back to the Lunar stage to get stuck into Chicago tech house aficionado Green Velvet's mixing skills. And he delivered. A consummate performer, and a great party set. The skewed, ironic take on pharmaceutical excess, "La La Land", which he sang live over the decks, affirmed that classic club hits still pack the biggest punches, and some of the revellers here were jumping so high they could have tucked a few more golds under Japan's belt at the Athens Olympics.

UK dance duo David Brown and James Taylor, aka Swayzak, took to their label's stage as dawn began creeping over the mountains to a smaller crowd, but one that lapped up the spiritual, seductive vibes that have become the pair's trademark. It was a darkly beautiful experience, merging Afrobeat and electronica, and sparse, angular techno grooves with haunting vocals. After the mammoth quantities of alcohol consumed and calories burned over the night, ethereal sounds like these were just what we needed.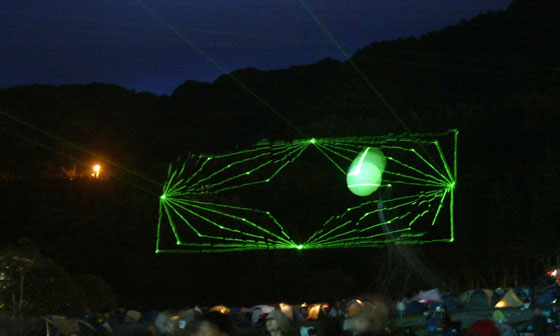 Jamie Lidell's post-dawn antics saw him donned in a bright pink suit, and his set jump like an electrocuted cat from from analogue synth to mixing desk to live vocal retro. But by this stage your hardened party goer had gone a bit green behind the gills, and didn't really need this. Despite the daring performance and sonic boldness from Mr. Lidell, at times you couldn't help thinking that all that crooning would have looked more at home in the function room of the Red Lion in Barnsley on ladies' night. Still, at least we had our tents to cower in until it was over.

Enter Chilean-born Ricardo Villalobos to save us from this early morning quagmire, and what a treat it was; precise, elegant mixing that compelled our wearied legs to discover new-found strengths. Putting aside some questionable mixing moves, this was minimal techno at its best, stripped to the bone, unpretentious yet sublime. Ironically, in complete contrast to the haircut and shades, but hey, none of us who had made it this far were about to hang up our gloves once he got warmed up. The perfect set for this unholy hour.

And so we were left to make the gruelling journey back to Tokyo with only the voluminous quantities of flyers handed out by party-goers/DJ wannabes for reading material. As the curtain fell on Metamorphose 2004, we nursed our tired ears and twisted minds, and looked forward to some intense hangover activity for Sunday afternoon. But we'll be back. Rarely in life are the generic walls of music demolished and rebuilt with such intense originality over the course of one night. Metamorphose is one of those nights. Long may it be so.