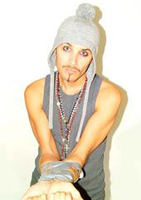 international news _ 26th September, 2006
Nick Bridges' Bodyrox Too Far
Text by Jonty Skrufff (Skrufff.com)
Rising UK funky house producer Nick Bridges chatted to Skrufff this week about his hugely tipped electro-punk anthem 'Yeah Yeah' and revealed that he's yet to enjoy significant returns or increased opportunities from the track.

"We have really seen it pick up some serious heat over the summer, particularly in Ibiza with support from everybody from Pete Tong, Judge Jules and Eric Morillo (Standing in for Pete Tong) on Radio One alone and DJ support from Louie Vega and Tony Humphries to Roger Sanchez," said Nick.

"But we've not had many more bookings, remix commissions or noticed promoters being suddenly nicer to us," he laughed, "Right now we are still working hard in the studio though hopefully we'll see some results after it's released."

The DTPM/ Friction resident is already one of London's most in demand house DJs both in the UK and overseas including Egypt where he recently braved terror alerts to spin at the opening of Ministry Of Sound's new franchise.

"I have actually played there a few time since the bombings, I played in Sharm a few weeks ago when they issued another warning to tourists," said Nick.

"It was fine but a little tense. The club had armed security at the door and Sharm was full of undercover police. The club was a little quieter than normal but still busy enough for a good party," he added.

New single 'Yeah Yeah' (co-produced by Jon Pearn) is almost certain to bring him more overseas jaunts in the near future courtesy of the already popular D Ramirez mix and the new D Ramirez vocal club mix, featuring filthy electro words from British singer Luciana.

"We know Luci through Jon's work with her as Full Intention. The track needed something pretty special and 'punky' which we knew Luci could deliver. She co-wrote the lyrics with her husband Nick Clow," he explained.

'Yeah Yeah' is out on Eye Industries on October 20.