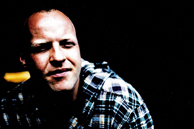 international news _ 20th September, 2006
Diddy vs P Diddy- London Underdog Wins
Text by Jonty Skrufff (Skrufff.com)
Positiva house producer Richard Dearlove, who in the 90s enjoyed a massive worldwide club hit Give Me Love under the name Diddy, received £10,000 in damages from Puff Daddy this week, after the US rap star settled out of court in a copyright row over the name.

The multi-millionaire Bad Boy entrepreneur first changed his name to P Diddy in 2001, though left Richard devastated when he dropped the P in August last year, he told Skrufff this week.

"When you find out that someone has taken your name the first thing you think is 'well, where does that leave me?'," said Richard.

"It's as though you will not exist from that moment onwards, because how will anyone know you've done something? You can't build your reputation up anymore and you lose whatever value you've built up in your own name because it's no longer identified with you."

Also adding to Richard's troubles was the fact he was still recovering from serious brain injuries which he'd sustained in a freak accident on New Year's Eve 2001, which left him technically blind and virtually trapped inside his flat for over two years.

"I tripped on some steps and fell over and damaged the right hand side of my head, I lost my sight and couldn't really talk," he recalled.

Gradually improving his vision and senses as he brain healed itself, he returned to clubland last year with the help of long time friend Daz Saund, together setting up wildly successful men-only gay club Megawoof and also started producing music again, before being floored again when he learned of Puff Daddy's intentions.

"I woke up that morning feeling absolutely gutted and went into a deep depression thinking 'what on earth can I do?' said Richard.

"It wasn't an easy decision to take legal action at all, if we'd lost I'd have been bankrupt for sure," he pointed out. "You get people accusing you of wanting to cash in or just doing it for the attention and I'm like 'No, no, the last thing I wanted was for this to have happened," he stressed.

"I didn't get a great deal of money, at all, I got £10,000, that's a matter of public record. I wasn't after money, all we essentially asked was 'this is my name, can you basically change yours' back?' that's all we wanted," he added.

Since the case made the news, his website has been deluged with mail from the States, though Richard stressed he's looking to put it all behind him and get back to running the club as well as promoting his new single The Reason.

"Megawoof is huge now, we could run it more often but we like to keep it a special party. We get about 800 people a month coming down to Crash and we could have more but the venue's not big enough. We also tour around the world with Megawoof too. At the same time, we're setting up a new label and I've got a new single The Reason that we're just promo-ing, a pumping disco record. That's my main focus for the next few months," he said.