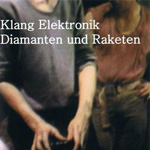 international news _ 14th September, 2006
Klang Looks Back
Text by Nick Lawrence (HigherFrequency)
Klang Elektronik, which along with Playhouse belongs to the Ata and Heiko Schafer's Ongaku Musik empire, is due to release it's first ever retrospective compilation CD on September 18. No doubt following the success of its sister label's successful "Famous When Dead" series, Klang has collected eleven tracks from their catalogue for this new CD entitled "Diamanten Und Raketen".

Klang Elektronik was founded in 1993 and built a strong reputation off artists such as Acid Jesus and Daniel Bell as well as Sikora, an artist who now works very closely with veteran German DJ Frank Lorber. This decade, the Frankfurt label has positioned itself firmly signing popular faces from the techno and minimal scenes like Alter Ego and Lucien-N-Luciano.

"Diamanten Und Raketen" showcases mainly the recent years of Klang's success with tracks from household names Alter Ego, Johannes Heil, and also Oliver Ho disguised as his more minimal self Raudive.

Tracklisting
01. Avus / Tear
02. Johannes Heil / Freaks R Us
03. Misc. / Hey Du!
04. Alter Ego / Gate 23 (Lost On Arrival...) (Alter Ego Dub)
05. 2 Dollar Egg / Graphit
06. Destillat / Cabrio
07. Bergheim 34 / Ding Dong
08. Phage & Daniel Dreier / Bees Wax
09. Partycrashers / Cos We Care
10. Raudive / Turn It Off
11. Hieroglyphic Being / D.O.S.