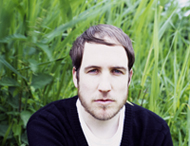 international news _ 11th September, 2006
Minimal is Over Predicts German Minimal Star
Text by Jonty Skrufff (Skrufff.com)
Kristan Beyer from German electronic duo Ame chatted to Skrufff this week about their already hugely successful minimal tech-house anthem Rej and revealed that he absolutely loathes most minimal music.

"Some tracks are good but in my opinion 90% of this music is bullshit," said Kristan.

"Rej is a big hit with the American guys like Louis Vegas, Francois Kevorkian, Timmy Regisford as well as the minimal guys like Richie Hawtin but we've never made minimal music and I don't like minimal music at all," he stressed.

"We think it's only popular because it's the best music to accompany the drugs people do these days. In Germany we call it ketamine music," he added.

The former Sonar Kollektiv star and Jazzanova peer stressed Ame come from a 'more traditional house and techno music' background and predicted minimal's days are numbered.

"Even in Berlin, people are starting to get bored of this music," he said.

"I know a lot of people on the scene, Steve Bug, for example, is a good friend of mine, as are the guys doing the Perlon label, who are famous for minimal and they're bored of it. Berlin's where it started and the fact the people there are bored of it, to me means there will be a big impact on it in a couple of months and minimal will go down and something new will emerge. I don't know what style, maybe house?" he guessed.

UK house star Felix Buxton from Basement Jaxx also admitted to feeling less than impressed with most of what passes for minimal, telling One Week To Live 'don't get me wrong it serves a purpose and sounds good in clubs but the riffs are all just old house riffs. And most of them are quite boring, considering it's meant to be futuristic house music," he added,

Ame's Rej is (re)- released on Defected Records imminently, with two new remixes by the Pasta Boys and 100 Birds.