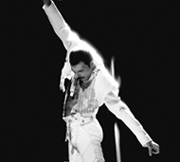 international news _ 7th September, 2006
Freddie Mercury Condemned By Zanzibar Islamics
Text by Jonty Skrufff (Skrufff.com)
Fundamentalist Muslims in Zanzibar last week called for authorities to ban a party timed to coincide with what would have been Freddie Mercury's 60th birthday on September 5, claiming the Queen singerŐs lifestyle was offensive.

"There are people claiming that Freddie Mercury is a Zanzibari but he grew up outside Zanzibar and then changed his name," the Association for Islamic Mobilisation and Propagation said in a letter to the Culture Ministry.

"Associating Mercury with Zanzibar degrades our island as a place of Islam," the the Association's letter continued, "Allowing such a function for a person known outside Zanzibar as a homosexual tarnishes the name of Zanzibar." (Washington Times).

The Islamic organization's call came just over two years after local leader Sheikh Muhammed Said celebrated the introduction of mandatory 25 year jail terms for men caught having sex together, saying "this is what we've been aspiring for, the country will really move forward" (The Guardian).

In more Freddie news, Queen's label EMI are about to release a tribute compilation-The Very Best Of Freddie Mercury Solo-, which includes rarities from the 70s recorded under his pseudonym Larry Lurex plus fresh dance remixes by the likes of the Glimmers and George Demure.