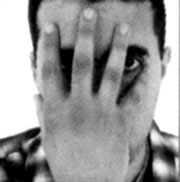 international news_29th September, 2004
Dave Clarke Releases Live CD/DVD project
Skint Records DJ, Remixer and Producer Dave Clarke has announced details of his latest release on the Brighton based label, a live CD/DVD project. The UK artist has built up devoted fan base over the years through his busy DJ schedule and two legendary solo albums, Archive One and Devils Advocate that instantly became essential items for any techno fan. This offering, recorded in Holland earlier this year at the Pink Pop Festival captures Dave at his best performing a stunning set of material off his two albums as well as some of his remixes.
Those splashing out the extra for the full visual feast won't be disappointed with the DVD including a lot of bonus material. It includes the live performance in Holland but also includes a live set from Belgium's Dour Festival, interviews with the man himself, promotional videos for his recent singles and footage from his performance at this years Creamfields.
Dave will also be playing a string of dates throughout Europe to support the release due out on Skint Records on the 1st November.
Tour Dates
Oct 31st: Dome de Villebon, Paris
Nov 04th: Concorde, Brighton
Nov 05th: Redbox, Dublin, Ireland
Nov 06th: Fabric, London
Nov 10th: La Sans, Bordeaux, France
Nov 12th: Loft Club, Barcelona, Spain
Nov 13th: I Love Techno, Belgium