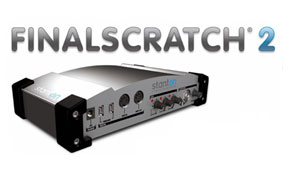 international news_24th September, 2004
Stanton Releases Final Scratch 2
Stanton who are fast establishing themselves as the industry standard for laptop mixing have announced details as the next stage in the development of the software and hardware interface with the release of Final Scratch 2 in November.
The next generation of Final Scratch hardware has a fully fledged firewire interface that delivers maximum responsiveness from the decks, supports midi in and out and you can even plug an external hard drive or your ipod into it!. Mic in allows sampling then mashing of vocals during a set and the software now supports newer digital audio files such as AAC and WMA files.
Combined with Traktor from Native Instruments that allows re-editing and sampling/looping of tracks on the fly it is gathering a growing number of fans in the DJ fraternity, so much so that Native instruments are starting to install the interface into many clubs around the US and no doubt Europe will follow.
Ableton's new Live 4 software though is a serious contender to Stantons desires for domination having received massive praise since its launch last month and is being used by legendary artists such as Sasha who made his latest album, Involver using the software. It'll be interesting to see who'll win the current scramble to become the standard in the digital DJ domain.
Richie Hawtin Interview in Tokyo (26/06/2004)