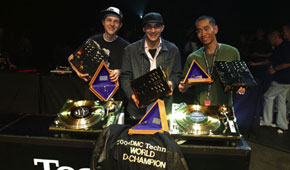 international news_7th September, 2004
Japan first in Battle for World Supremacy
DJ Akakabe, the Japanese entrant in this year's DJ Battle championships at the world DJ Championships in London walked away with the champion's jacket after winning his final battle against Silk Kuts.
It was a full house on both days of the event last weekend at the Hammersmith Apollo in Central London where scratch fans gathered to see the best turntablists perform routines practiced for weeks yet over in seconds. Defending his individual championship title was DJ Dopey from Canada, a real favourite with the crowd his 6 minutes was only good enough to give him 3rd place.
It was American DJ I-Emerge was crowned the world DJ Champion after Sunday's Grand Finals after he narrowly beat off stiff competition from German DJ Rafik with a killer 6 minute aggressive set that built up to a crazed scratching finale that climaxed with I-Emerge smashing his records over the decks clinching him the championship title and a pair of gold plated decks and mixer. DJ Blakey, the UK entrant popular with the home crowd played a clean and fairly interesting set although he didn't achieve a top 3 place I think even he knew it was well deserved.
Once the competitions were finished and the judges were making up their mind those gathered were treated to a special P.A. performances from the Jungle Brothers on the first night and by NY turntablist crew The X-Ecutioners featuring Grandmaster Roc Raida, a past DMC champion himself, together with Rob Swift and Total Eclipse on the Sunday.
For Japanese fans not able to make it to the final to see Akakabe's title winning set the UK's BBC Radio 1 Xtra will be broadcasting a recording of the event from the 18th of September available worldwide via their website.
Keep a look out on HRFQ for an event report bringing you the action and excitement direct from London online in the next few days.
Intl News "World DMC Championships" (12/08/2004)